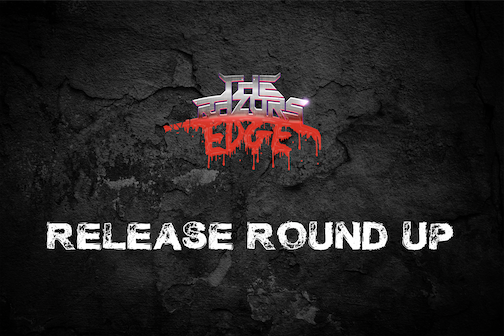 Release Round Up - February 3rd, 2023
Every Friday there is a tidal wave of new music released unto the world. Whilst we try to cover as much as possible here at The Razor's Edge, it's not always possible to review everything. So each week on a Friday we'll round up some of the best new music available, some we've reviewed, some we haven't, but all worth checking out!
Theres a lot of new heavy music hitting the airwaves this week, everything from black metal, death metal, gothic metal, Stoner rock, doom, thrash metal and even some of your traditional heavy fuckin' metal!
Here's what we think you should check out today!
British old school death metal stalwarts Memoriam release 'Rise to power' on Reaper Entertainment.
"Memoriam still knows when to take your face off though as powerhouse slabs of death metal groove"
Read our full review here.
One of the hottest death metal commodities of the past few years, Sanguisugabogg release 'Homicidal Ecstacy' via Century Media Records.
"one of the most honest and crushing sounding death metal records you will hear this year"
Read our full review here.
Mithridatum, who feature former members of Abhorrent and The Faceless, release 'Harrowing' on Willowtip Records.
"the record is a journey and will continuously take you down a variety of rabbit holes as it twists through sheer aggression moving right through into harsh melody"
Read our full review here.
Denmark's hardcore cohort Eyes return with sophomore album 'Congratulations' on Indisciplinarian.
"A short and snappy thirty minute ride which will leave you battered and bruised and wandering what just happened to you."
Read our full review here.
London four-piece stoner rock outfit The Miser release EP 'Memento Mori' this week.
"Full of passion, heavy, killer riffs, and demonstrates that The Miser are ready to stand toe to toe with anyone."
Read our full review here.
Deathcore kings Osiah drop new EP 'Chronos' via Unique Leader Records this week.
"Osiah boast an arsenal of unstable tempo changes, enough to make any budding music listener feel uneasy, not quite knowing whats going to come next."
Read our full review here.
And thats just the tip of the iceberg! Other releases today we think you should check out include...
Rock / Hard Rock / Classic Rock
Dead Blonde Stars - Metamorphosis (Self-released)
DeWolff - Love, Death & In Between (Mascot Records)
Eamonn McCormack - Eamonn McCormack (Self-released)
Hamish Hawk - Angel Numbers (Post Electric)
Jupiter Zeus - Frequency Prison (Self-released)
Lansdowne - Medicine (FiXT)
Ricochets - Closer to the Light (Indie Recordings)
The Hollywood Stars - Still Around [EP] (Golden Robot Records)
Heavy Metal
Disconnected Souls - Dissonant Whispers [Single] (Self-released)
Hands of Attrition - Solace (Self-released)
Nothing Sacred - Leviathan [EP] (Rockshots Records)
Russkaja - Turbo Polka Party (Napalm Records)
Xandria - The Wonders Still Awaiting (Napalm Records)
Black Metal
A Diadem of Dead Stars - Emerald Sunsets (Ill Damnation)
Carathis - Moonstone & Amethyst (Personal Records)
Fugit - Morphogenetic Fractal Hologram (Self-released)
Narrative - Servants of the Prophets, Martyrs of Men (Self-released)
Sermon - In Fade of Memories (Northern Silence Productions)
Skratte - Akt II: Des Wolfes Klagen (Northern Silence Productions)
Winter Willow - Existentiell Vånda (Talheim Records)
Death Metal / Grindcore
Antigod - Messtery (MetalGate)
Black Water Sunset - Engraved Spectral Aeons (Self-released)
Death Feast - Risen From The Tomb (Haloran Records/Larvae Records)
Debauchery - Cranial Indulgence [EP - REISUE] (Vargheist Records)
Godiva - Hubris (Self-released)
Hellwalker - Hellwalker (Rot'em Records)
Matt Miller - Decrepit Shed [REISSUE] (Blood Blast Distribution)
Nemesism - Nemesism (Self-released)
Doom / Stoner Rock / Sludge / Psych
Blackwulf - Thieves & Liars (Ripple Music)
Clouds Taste Satanic - Tales of Demonic Possession (Majestic Mountain Records)
Elderseer - Drown In Teh Shallowness (Meuse Music Records)
Forever Autumn - Crowned in Skulls [EP] (Self-released)
Kanashimi - 闇歌 Yamiuta (Talheim Records)
Polymerase - Dreams & Realities I (Electric Talon Records / Sliptrick Records)
Starspawn of Cthulhu - The Cursed Vision (Talheim Records)
The Freqs - Poachers (Self-released)
WuW - L'Orchaostre (Pelagic Records)
Hardcore
Endorphins Lost - Night People (Rotten To The Core/To Live A Lie Records)
Eyes - Congratulations (Indisciplinarian)
Progressive Rock / Metal
Arcana Collective - Atlas Lost, Act 1: The Long Sleep (WormholeDeath Records)
Zebedy - Waiting For The Tide (Self-released)
And the rest...
Cromworx - Cromworx (Northern Silence Productions) [Dungeon Synth]
Dream State - Untethered [EP] (Self-released) [Post-Hardcore]
Iron Asparagus - To Whom It may Concern... Fuck You (Self-released) [Thrash Metal]
Palace of Worms - Cabal (Acephale Winter productions) [Avantegarde Metal]
Rexoria - Imperial Dawn (Black Lodge) [Power Metal]
Stahv - Simple Mercies (Self-released) [Darkwave/Doomgaze]