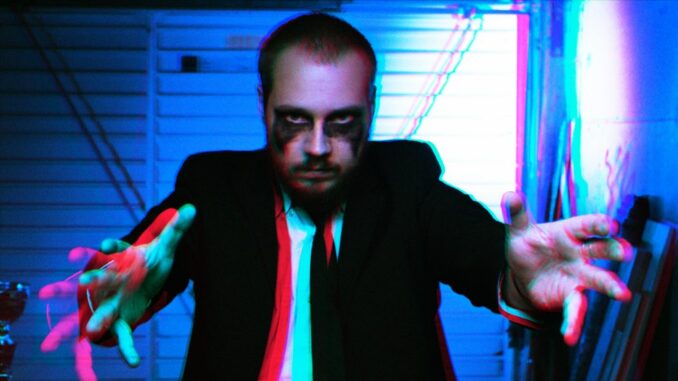 Single Review: Leatherback - Bystander
Reviewed by Paul Hutchings
Having checked out a few of Leatherback's YouTube videos, even by his standards this latest single from the solo artist is out in left field. His music appears to be a combination of industrial metal relying on loops and effects but 'Bystander', whilst retaining the industrial grit appears more as a combination of a road drill, a giant wasp, howling wolves and an accelerating jet plane engine. There's something quite unnerving about it. An instrumental project from Chester based Matt Neave, the combination of ambient and industrial has clearly resonated with some, as Leatherback has performed support slots for Tool Shed, Redeem the Dead and Stand Silent. During lockdown Neave has completed several lockdown streams from his front room.
He explained the theme behind Bystander. "I began thinking about how so many people become bystanders in their own lives. "Whether they don't have the confidence to follow their own instincts, or the pressures of society make it impossible for them to follow the life that they want, many people wind up watching their life pass them by. It's this oppressive, learned helplessness that causes discomfort for so many people, midlife crises, depression, anxiety, and it's this feeling that I wanted to capture in the repetition in the music, permeated by brief escapes. Bystander seeks to confront this and bring attention to the fact that many evils that have happened in the world were allowed to happen because people stood by and did nothing. Take control, don't get scared, stand up".
Once you read this explanation, the track becomes a little clearer. The repetitive rhythm with only brief shards of light certainly make it something of a challenging listen. But I think that is what Leatherback would want to happen. It's probably easiest to let you make your own mind up on this one. My is still a bit frazzled!