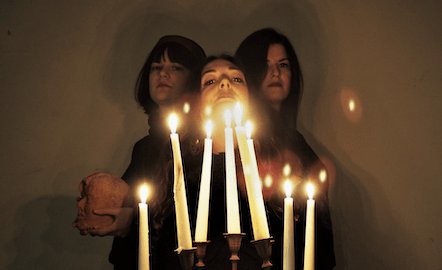 Album Review: Kabbalah – The Omen
Reviewed by John Caffrey
Hailing from Pamplona in the south of Spain, Kabbalah is a three-piece metal band; Alba on guitar and vocals, Marga on bass and vocals and Carmen on drums and vocals. 'The Omen' is the band's first album for four years, 'Spectral Ascent' being released in 2017.
The opener to this quite short album is 'Stigmatized'. It's starts with and almost doomy feel of early Sabbath but the breaks into a pretty good Ghost influenced song with the vocals and music moving in sync. Ethereal harmonies abound as it meanders along nicely right to the end where organs and distorted chords close. This style runs throughout the album 'Lamentations' and 'The Ritual' sound great but have a quite retro feel.
'Ceibas' -  a type of tree of life (I googled it) - starts with a single guitar and kicks it to a very 70s classic, garage rock feel, with fuzzed up guitars. The vocals are again interesting by flowing up and down with the guitars, the harmonies in the back lift the music to another level. This is more of a celebration of the music the band listen to rather than a bad rip off.
As the album continues 'Labyrinth' is a little more up tempo with hint of 90s stoner in the music, the female vocals are great in this type of music and offer a new dimension. 'Duna' has a more poppy vocal style but the music is still psychedelic sound of early Jefferson Airplane, which is executed well.
This album is not my usual type of music and took a few listens to really get into. It was worth the effort, I really warmed to the sound and although the obvious influences of bands like Black Sabbath, Ghost, early psych rock and stoner. Overall it is lifted with competent musicianship and great vocals and harmonies. A short album but packed with good songs played well.