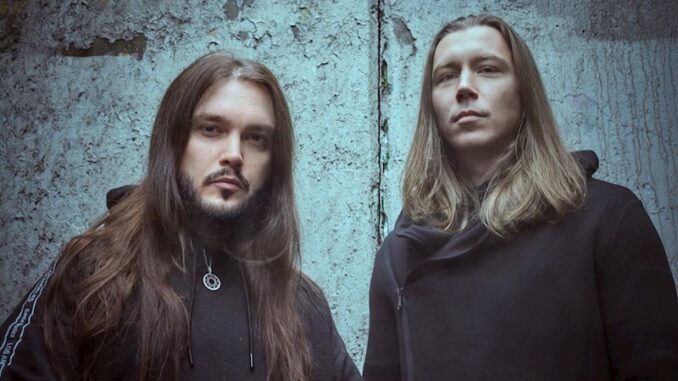 E.P. Review: Neorhythm – Evils
Reviewed by Richard Oliver
Evils is the new E.P. from Russian groove metal duo Neorhythm. The duo is made up of Mag on instruments and music and Telkw on vocals and lyrics. Currently based in Saint Petersburg, Neorhythm formed in Lapland in 2017 and to date have released two albums and an E.P. as well as various singles on Bandcamp.
This new E.P. is a conceptual link between previous album Terrastory and the next full length album and is sung purely in Russian. Not being able to speak Russian myself the lyrical content of this E.P. is lost on me but I do understand the language of metal. Neorhythm have a dark groove metal sound that takes inspiration from bands such as Gojira, Meshuggah and Mnemic as well as having an influence from death metal. The four songs are quite similar in nature being comprised of downtuned groove riffs and a steady middling pace. The vocals are a mix of a Max Cavalera styled bark and a more death metal influenced growl. Opening song Servitude is the fastest and most aggressive sounding song on the E.P. and the clear stand out with a pummelling groove riff and driving rhythm. Lies and Wrath are at a slower pace playing heavily into the groove whilst Avarice has a more chuggy rhythm which is almost staccato at times.
Neorhythm have a decent E.P. with Evils. Having not heard any of the bands previous work I don't know how it compares with their back catalogue but even with only four songs it is a bit samey. I've never found groove metal the most exciting of metal subgenres and this E.P. has done little to change my mind there. There's nothing inherently wrong with Evils but it fails to light the spark in my brain which metal so often does. A decent if forgettable E.P.
Neorhythm release 'Evils' on February 5th