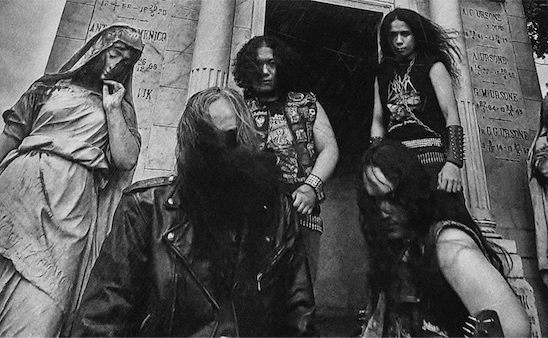 E.P. Review: Spellforger – Upholders of Evil
Reviewed by Richard Oliver
Upholders Of Evil is the debut E.P. from Indonesian blackened speed metallers Spellforger. Formed in 2020, Spellforger are a four piece highly influenced by 80's proto-black metal as well as the new wave of blackened thrash currently ripping through the underground.
This E.P. is very much a throwback and perfectly emulates the old school sound which inspired the creation of the band. This is bare to the bones blackened speed metal with a heavy doses of old school thrash and death metal thrown in for good measure. Made up of six songs and a running time of just over 21 minutes this is an E.P. that wastes no time and rips forth with a speed metal attack for the vast majority of the E.P.'s duration. The riffs are pure 80's metal worship with that blackened serrated edge whilst vocally frontman Middernacht has a far more thrash delivery with some high pitched yelps, screams and wails thrown in there as well. Like any band going for a retro sound, originality is lacking but if it's done well then who gives a shit and Spellforger certainly know their craft with ripping metal anthems such as Metal Crusaders and Pestilentia.
Spellforger have a very enjoyable debut with Upholders Of Evil. Although this blackened speed metal revival seems to be quite the thing at the moment Spellforger are a welcome addition to the scene joining bands such as Midnight, Hellripper and Bewitcher. As someone who loves gnarly old school metal this is right up my street and a very promising, raw and suitably unpolished debut E.P. from Spellforger.