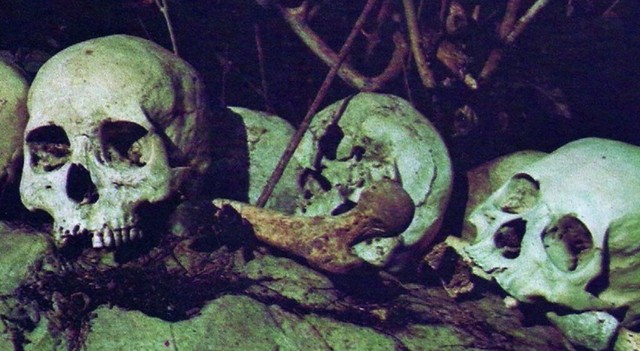 Album Review: Death Feast - Risen From The Tomb
Reviewed by Patrick O'Reilly
The cover art for this album gives a good clue of what waits inside… a still from cult British horror anthology 'The House that Dripped Blood' of Horror legend Ingrid Pitt as a vampire, fangs bared climbing from a coffin!! Like this picture and the film itself this album is a cult celebration of horror with a distinctly retro feel.
Risen from the Tomb is a journey through the past to when Celtic Frost reigned supreme, when genres didn't matter as much… metal was just metal and all the better for it!!
The first thing that struck me about this album was the guitar tone, a creepy dirty sounding tone that is perfect for the material contained within, it chugs and grinds through the opening two mid paced tracks before picking up speed in places, but that old school chugging is always around the corner and appears in most tracks.
Vocals are impressive and atmospheric, they sound how I imagine a rotting skeletal body exhumed from a long-forgotten tomb would sound like were it able to speak, a raspy hoarse groan of corpse breath which haunts each track and really adds to the vibe of death.
Some fine solos add a layer of quality to the tracks and create a slightly different vibe to the darkness surrounding them.
Standout track for me is the doomy 'Hell Funeral' which starts slowly before bursting into a thrashy mid-section then returning to the sludgy chugging riff from earlier.
I wouldn't say this album is breaking any new ground or is even progressive in any way, it is derivate and familiar, that's not to say its not worth listening to though, quite the opposite, the passion and exuberance of the playing on the album, combined with the dark atmosphere and cult aura make this a real blast that will pump you up and bring you down to the depths of hades!