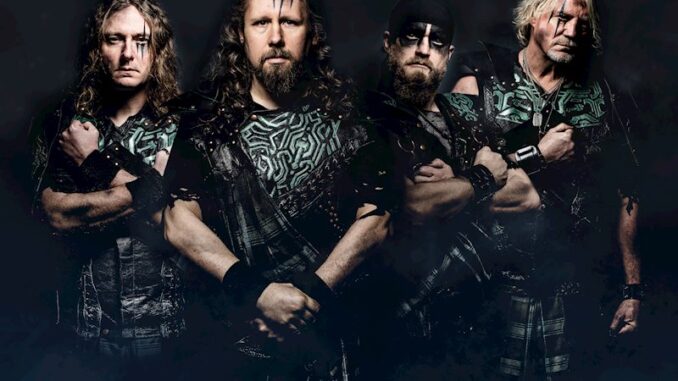 Album Review: Hammer King - Hammer King
Reviewed by Paul Hutchings
Glorious old school power metal has its roots deep in Germany and there's ample classic influences in this release from the latest outfit to emerge. Hail to Hammer King. It's not new, it's not original but it's good enough to make you bang your head, raise the horns and enjoy.
This is their fourth album since 2015. Hammer King comprise former Ross the Boss vocalist, Titan Fox V (also on guitar), Gladius Thundersword on bass, drummer Dolph A Macallan and lead guitarist Gino Wilde. Yes, it's incredibly over the top, with the usual fantasy influenced topics and themes, starting with the feisty 'Awaken the Thunder', all big bombastic posturing and chanted choruses. 'Onward to Victory' demands those fists remain raised high, and the pace after this opening duo rarely slows for the rest of the album.
With an impressive vocal range, Titan's singing is one of the key highlights on this album. His soaring delivery is balanced by a lower scale which provide respite from the often-ear-splitting vocals that can dominate power metal. There's the traditional thundering drumming and frantic high-speed frenzy across the album; 'Hammerschlag' maintains the pace with some searing guitar solos. 'Atlantis (Epilogue)' is one of the early releases from the album and is accompanied by one of the most ridiculous videos I've seen for many a year. The song isn't bad, but listening is certainly preferable to watching it.
The album climaxes with 'King of Kings', an anthemic, if slightly hammed up piece that includes a dramatic narration to introduce the song. Another solid album for 2021, power metal fans should get involved with Hammer King, for this album certainly ticks most of the boxes.