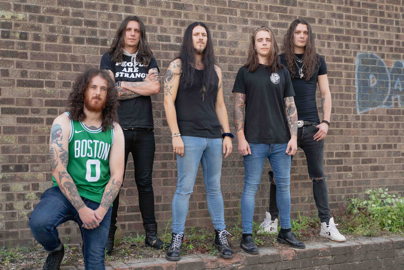 Album Review: The Treatment – Waiting For Good Luck
Reviewed by Paul Hutchings
A strange band, The Treatment. They've been around for well over a decade, releasing their debut 'This Might Hurt' way back in 2011. They've crossed my path several times, and live have always produced the goods with their pumping, hands in the air good time British rock n' roll. Their most recent album, 'Power Crazy' was a decent release in 2019, showcasing the vocal prowess of frontman Tom Rampton who had replaced Mitchell Emms, but the band have never been able to push through to the premier league, and I'm not sure if 'Waiting for Good Luck' will be the one to gain promotion either.
It's certainly cohesive and very listenable. Produced by Laurie Mansworth (Airrace) and mixed by the legendary Kevin Shirley, there is a polish on their fifth album that you'd expect. The swagger is there on songs such as 'Eyes on You', opener 'Rat Race' and the Status Quo three bar boogie of 'No Way Home'. The band are tight, with new bassist Andy Milburn fitting in nicely. Rampton's gravelly edged vocals are pleasing, strong and powerful, if a little generic.
And I think that is what is causing me the concern. It is the relatively standard style of the songs. There are hooks, choruses that will get festival crowds singing along. Check out 'Hold Fire', borrowing every riff from the AC/DC & Airborne stable – magic with a beer in the sun. But there is nothing that makes The Treatment stand out from the bustling hard rock scene. There is no song on this album that grabs you and screams, "this is The Treatment … this is our sound". And without that, it's all a little hard rock by numbers. It's perfectly good, the music is well delivered, and I have no criticism of the playing or the talent on offer. But there needs to be something different.
Whilst I am sure that this album will be lapped up by the band's loyal fanbase, I just cannot get over excited about the 12 songs on the album. With influences including Black Stone Cherry, AC/DC, Free and The Answer all evident, 'Waiting for Good Luck' is an album that you can easily put on whilst reading, driving, or doing the DIY. It's fun, enjoyable but ultimately may not be the large slice of luck that the Cambridge outfit are still looking for.