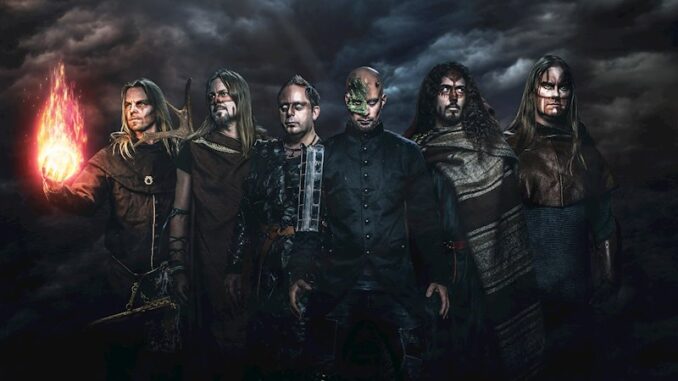 Album Review: Bloodbound - Creatures of the Dark Realm
Reviewed by Paul Hutchings
My relationship with power metal can be fickle. Give me the classic German style of Helloween and Blind Guardian and I lap it up like a pensioner at an all you can eat buffet. I can live with Sabaton before they turned into a parody of themselves but stretch to the more theatrical Eurovision-style pomp of Kamelot, Avantasia, Rhapsody of Fire etc and I'm likely to give it a wider berth. I love cheese, but not always coating my riffage.
So, whilst this ninth album from the Swedes is slicker and more polished that an American's teeth, it is a little too joyful and epic from start to finish. There's absolutely no dirt anywhere on this record. It fair romps along, with every box in the power metal list ticked, double ticked and even triple ticked. Such is the overindulgence.
There isn't a power ballad in sight, and for that I am truly grateful. Few bands can do that well. Instead, we get 11 anthemic pieces which will no doubt delight their army of basement dwelling fans who will emerge blinking from their bunkers and games of D&D to find that the Amazon man has delivered once more.
Full of mythical lyrics and themes of dragons, darkness and war, the songs here quickly catch you in their gravitational pull, and 45 minutes later you wonder why the hell you ended up singing along to the likes of 'Death Will Lead the Way', 'Kill or Be Killed' or the frantic paced title track which soars like an eagle at the very start of the record.
Musically it is fantastic. The musicianship is bonkers, the drumming insane whilst the duelling guitars shred like 12-year-old Japanese girls on YouTube. There's certainly the overlap with elements of countrymen Sabaton, probably the biggest Power Metal outfit around today, (check out 'March into War' for all the evidence you'll ever need) but there are also Celtic influences, such as the jigging riff on 'Kill or Be Killed' as well as the dramatic and explosive pace of songs like 'The Gargoyles Gate'.
There is ample, possibly but let's face it, unlikely subconscious reference to Helloween, and with the Germans returning with their long-anticipated album in a few short weeks, the power metal playground is filling up quickly. Bloodbound do what they do damn well. It's song after song; bam, bam, bam and there's little opportunity to catch the breath. Patrik J Sellbey leads the line with aplomb, his soaring vocals hitting every note whilst the rich melodies and harmonies on each track work fantastically.
The challenge here is that if you don't like power metal, then 'Creatures of the Dark Realm' will not change that opinion one iota. If you do, then turn off that laptop, shut down the monitor and take a deep listen. If you don't want to smash it up, then it's for you. If you want to hurt people, badly, I suggest you get off this train damn quickly and head for the nearest death metal offering. This will not make my albums of the year, but for all my gripes, I had good fun listening to it and if you can at least appreciate the sheer quality on display, then that's at least half the fun!