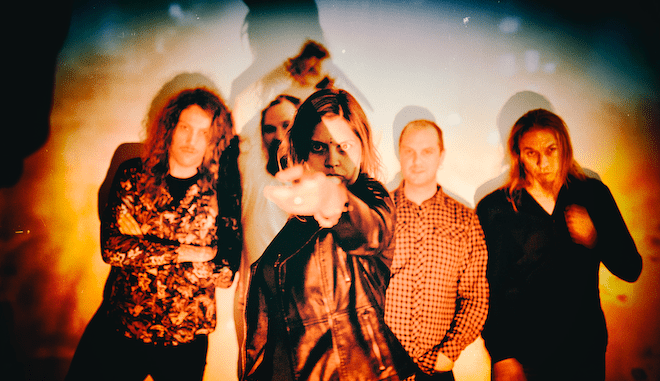 Album Review: Jess and the Ancient Ones - Vertigo
Reviewed by CJ Claesson
As I learn more about psychedelic rock, I learn how little I really know. I'm paraphrasing part of the soundbite included in the opening track and I realize I don't have to know anything to know that 'Vertigo' is a brilliant, grandiose and fun record entrenched in the paranormal. Who said that the dark unknown can't be fun, anyways?
Formed in 2010, this communion of Finnish retro rockers have managed to create an impressive catalog of colourful music consisting of three full-length albums and one EP. Not only tailored for the psychedelic ear, but for anyone appreciative of atmospheric rock with depth… and a hefty serving of groove. Jess and the Ancient Ones have now emerged with the sonic tornado 'Vertigo' which serves as a dazzling follow-up to their 2017 release 'The Horse and Other Weird Tales'.
'Vertigo' is a clever record taking the listener on an alluring journey to unexpected places, and all you can do is strap yourself down and enjoy the ride. Having listened to the entire back catalog in preparation for this review, it is noticeable that songwriter and guitarist Thomas Corpse et al. turned it up to eleven on this record. That's definitely not casting a shadow on previous releases, au contraire, the bar was already set very high and they still managed to top it.
Early in the opening track 'Burning of the Velvet Fires' vocalist Jess comes out swinging, showcasing her strong and captivating voice. The band launches into a fireball burning more intensely for every second, serving as an excellent representation for what's to come. Jess and the Ancient Ones have a remarkable ability to get their hooks into you and with that momentum enchant your senses. Seamlessly it all goes from intense to mellow, rock to pop and everything in between. The pop element is especially strong in the following track 'World Paranormal', which has become somewhat of a personal favourite. Every element in the songs are allowed ample space and although it's meant to be enjoyed as a whole, the lavish musicianship is apparent when you try to isolate the instruments. It's very polished without any compromise regarding the emotion of the songs. This emotion is elevated on 'Love Zombie' where Jess delivers a vocal performance reminiscent of early R&B and even soulful Motown, but with an eerie twist. It would be criminal of me not to mention the speed carnival that is 'Summer Tripping Man'. At no point in the journey through 'Vertigo' are you prone to dozing off. However, the aforementioned track serves up a burst of energy as the gallop of the drums ensues. Abraham, the king of keys, delivers a blinding organ frenzy which would make Jon Lord himself weak in the knees. The eight track album culminates in the eleven minute epic 'Strange Earth Illusion'. I've noticed the running theme of the band with ending on a behemoth of a track, and even with its eleven minutes it's a mere Minor Threat song compared to the monumental 22 minute closing track 'Goodbye To Virgin Grounds Forever' on their 2015 album 'Second Psychedelic Coming: The Aquarius Tapes'
Length has little importance unless you fill it with something good, and of course the band ends the album on nothing less than a bang. Unveiling an array of layers of amazing playing and putting the spotlight on each and every musician in the band. Heavy power chords, huge pounding drums and tasteful bass grooves are masterfully intertwined with a delicate supernatural calm. You don't need drugs to enjoy this trip.
For someone who is not too well-versed in the world of psychedelic rock, I am immensely impressed by not only 'Vertigo' as an album - but Jess and the Ancient Ones as a band.
There are a great deal of bands who continue to perfect occult / psychedelic rock that isn't Ghost (no shade) and Jess and the Ancient Ones are definitely one of them. If you're ready for a fun, paranormal journey through space accompanied by a powerful voice and brilliant musicianship - get 'Vertigo' and press play! Kiitos paljon Jess and the Ancient Ones! 'Vertigo' out via Svart Records on May 21st.