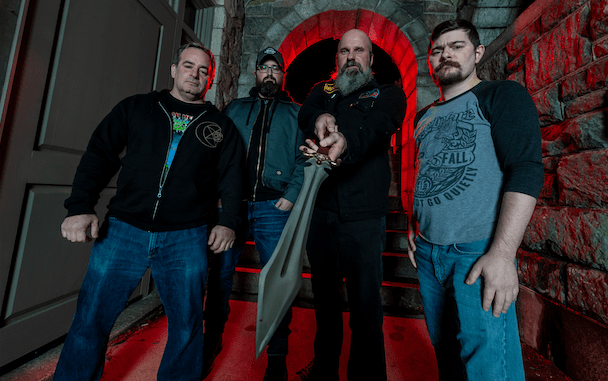 Album Review: Oxblood Forge - Decimator
Reviewed by Neil Bolton
Oxblood Forge have created an album dripping in Heavy Metal. Ken Mackay's vocals leave you in no doubt that although this band have a stoner and doom roots, metal is running through their Boston, Massachusetts veins.
The exclamation of "Hit it" before the first track 'Into The Abyss' is the perfect introduction to the sound of this band. It has a sing along-able chorus to it, and a guitar solo will induce an air guitar facsimile. Chants of "Die, die, die with us" see us to the end of this metal experience. The title track 'Decimator' is next and has a Judas Priest vibe contained in its belly. Once again the gravelly vocals mix well with a band creating music to raise your horns to. We almost have a drum solo rear its head before the triumphant guitar solo once again reigns high.
The metal does not subside in 'Forged In Fire', the vocals are a little less harsh in sections, and the hooks are sharp and stick in the areas they are meant to. The doom element is a little more on show at the unfolding of 'Screams for Silence' until the track speeds up and you are left with decision once more of what weapon you are attracted to most for the upcoming battle. Sword, axe or flying V!
This quartet have been together since 2016 and since that time they have decided to play metal, but play it their way. 'Decimator' is their third release and once more displays their roots. In fact the Angel Witch cover contained here is testament to that. 'Ironbound' sees the nine tracks to their conclusion with an eight minute epic that pleases as much as the tracks before it.
On doom metal foundations Oxblood Forge have built a heavy metal castle, strong enough to withstand the test of time, as well as any marauding invaders.