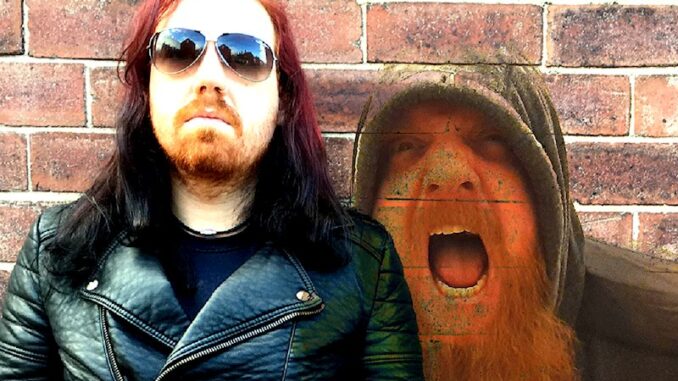 Album Review: WaxWorm - Mea Kulpa
Reviewed by Dan Barnes
Over a decade in gestation, WaxWorm's debut has been a long process for its creative duo of Arthur Brown and Duncan Evans. Understandable when you consider Brown is an Aussie and Evans, once of A Forest of Stars, a native Pom. Not ones to let the odd ten-thousand miles stand in the way of musical inspiration, the pair collaborated in person where possible and remotely when not, to create Mea Culpa.
Finally seeing completion in 2021, the album is seven tracks of dark electro-chaos, created without the use of guitar, relying instead on electronic and industrial instrumentation and even common-or-garden household objects.
WaxWorm have left nothing out of contention for inclusion on Mea Culpa, whether that be distorted synthesizers or dissonant noise hitting you in wave after wave of ambient uncertainty, this is very much a banquet for the cerebellum as well as the ears.
Mea Culpa's long birthing process might well account for its eclectic combination of sounds and styles; from the cheerly upbeat, eighties-inspired jaunt of Eschaton – not what you would expect from a track with such a name – to the schizophrenic, skittering beats of Azoth, with its use of 8-bit tape loading technology, causing flashbacks to the wasted adolescent evenings playing Manic Miner.
There's something of the Operation Wandering Soul about opener Mutus Liber, something distinctly unnerving about the slow, yet implausibly heavy pounding beats, around which all manner of other sounds orbit. It is an immersive invocation, featuring Gregorian chants and feedback loops.
The edgy, floating through space sensation heard in Mutus Liber is amplified a thousand-fold in the album's longest composition: Rosaruis, whose epic grandeur plays oriental touches over the underpinning hum of a seemingly sentient being. Whether that being is carbon or silicone-based – or something we do not yet understand – is in the ear of the listener and, as you're dragged through the cosmos, around the pillars of creation, and toward the heart of the universe, there's plenty of scope to deliberate that question.
The Wolf and Its Gun and Raptus are two tracks that sit close together on the album but are polar opposites when it comes to style and content. Whereas Raptus is the closest WaxWorm come to a traditionally structured song, The Wolf… is a collection of noises, a disparate symphony of seemingly random sounds, stitched together to make one of the album's most compelling moments.
Raptus manages to be simultaneously broodingly melancholic and oddly optimistic, while featuring a lyric expressive of the fear, loneliness of dejection of the human condition. For the most part Mea Culpa is an instrumental piece, with only the occasional vocal input from its creators. For the most part, Messers Brown and Evans are happy to let the music do the talking and for the unsettling and disturbing to offer catharsis and consolation to those brave enough to seek it out.
At times abrasive and edgy, while at others swimming with rich melody, WaxWork's alchemical experiment of brewing dissonant noise with dark ambient drones, industrial metal and electronic dance beats is a triumph of the dedication to their craft.