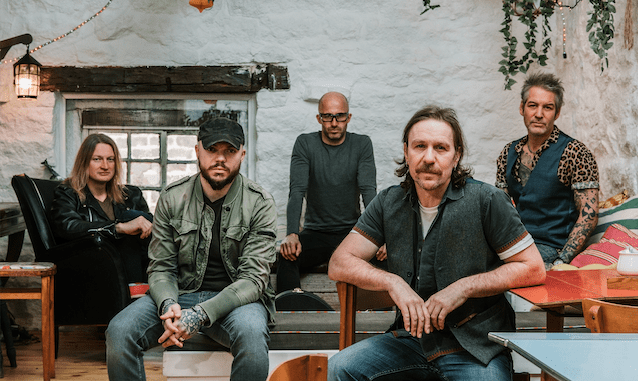 Live Review: Terrorvision - KK's Steel Mill, Wolverhampton
17th September 2021
Supt. The Middlenight Men
Words: Cat Finch / Photos by Tim Finch
KK's Steel Mill is where it's at in the West Midlands these days. The best venue, hosting the best tours and tonight is no exception, just a couple of days after The Wildhearts we're in town it's now the turn of Terrorvision to get the Black Country party started on this Friday evening.
Kicking off affairs, the only support band of the evening, The Middlenight Men. These are a strange ensemble, as the lights raise we find eight characters on stage, along with the usual cast of any band there's a brass section and a raft of backing singers. Most sporting a strip of black face paint across their eyes, however it seems two didn't get the face paint memo. The bassist is painted up like a member of the blue man group and the guitarist seeming missing the face paint altogether and opting for a cowboy hat instead.
Musically they are a classic rock n roll party band, the ultimate Terrorvision opening act to be fair. Getting the room hot and sweaty, bouncing along, fist pumping to their music.
With the entrée out of the way it's time for the main course.
"We are Terrorvision from Bradford"
The battle cry of the best rock act from the North of England. Terrorvision never disappoint live and tonight is no different. Opening with 'Discotheque Wreck' and 'Pretend Best Friend' the party has well and truly started. Tony, sporting a pornstar 'tache post lockdown, ever the energetic frontman as a chorus of "Alice What's The Matter" rings out from the crowd.
The band throw in a new song just to spice things up, 'Daydream' a mellow number compared to those hits from the nineties but perfectly encapsulating the Terrorvision ethos. Followed swiftly by 'In Your Shoes' which they say they haven't played live before. And it's always good to see a band mixing up their set.
The set ramps up in energy as it nears its end. The Terrorvision classics spew forth. 'Middleman', 'Oblivion', 'Some People Say', 'Josephine' and 'D'ya Wanna Go Faster' get the crowd pumping once more. Then as the encore of 'Perseverance' ends confetti canons fill the air and the evening closes perfectly.
Long live rock and roll and long live Terrorvision.