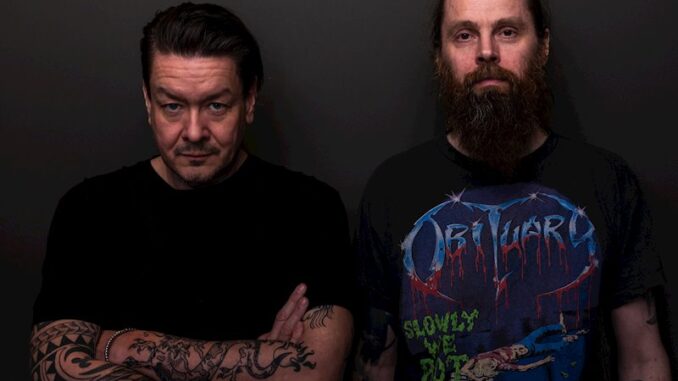 Album Review: Bastarđur – Satan's Loss of Son
Reviewed by Gareth Pugh
There must be something in the Scandinavian air that fires the imagination and gets the creative juices flowing. I think every Nordic musician, whether Swedish, Norwegian, or in this case Icelandic, seems to be involved with at least one side-project aside from their main band. Jonas and Anders from Katatonia have death metal supergroup Bloodbath, Nocturno Culto apart from his dayjob in Darkthrone also dabbles in Sarke, and the latest to join in on the side project mayhem, is Sólstafir's Aðalbjörn Tryggvason with Bastarđur.
Originally starting out just by writing riffs that wouldn't be suitable for Sólstafir and inspired by his love of heavier music this, like so many artistic expressions, finally took shape after adversity in the form of a relationship breakdown. Teaming up with one of his besties, drummer Birgir Jónsson (Dimma, XIII etc) and also utilising the talents of former Sólstafir live sound guy Jóhann Rúnar. The trio set-up in Tryggvason's father's garage to bash out eight songs that, although started out as riffs in the Entombed style, quickly evolved into something with much more 'Crust Punk' ingredients than originally foreseen.
The result of this collaboration is 'Satan's Loss of Son', which is a wonderfully dirty and filth encrusted album, seriously you'll need to take a shower after each listen. Apart from the Entombed and crust punk influences, there's also a huge slab of Motorhead, with a real Rot n' Roll feel to the sound. Opener 'Viral Tumor' epitomises that, and it also has one of the murkiest bass solos you are likely to ever hear. 'Neonlight Blitzkrieg' continues the grime but has a very uplifting guitar solo which rises like a torch from the depths.
The title-track rattles along on a fast bass and drum foundation. That's not to say that SLoS is a one trick pony, the core sound might be set, but it's very impressive how they take that and create eight individual songs, and to add even more depth and colour, there's occasional glimpses and uses of dynamics more associated with his main band. 'The Whispering Beast' is a great example of this, the thick chords, and pulsing drums in contrast to more atmospheric sections. As is album closer 'Rise Up' which uses slower sections for maximum sludge.
If you just want pure unadulterated, undiluted, filthy, and gunge-soaked fun this is an album you need to get your grubby, and if they weren't grubby before they soon will be, hands on. This is just pure smut and I'm off to get cleaned up before diving straight back in.