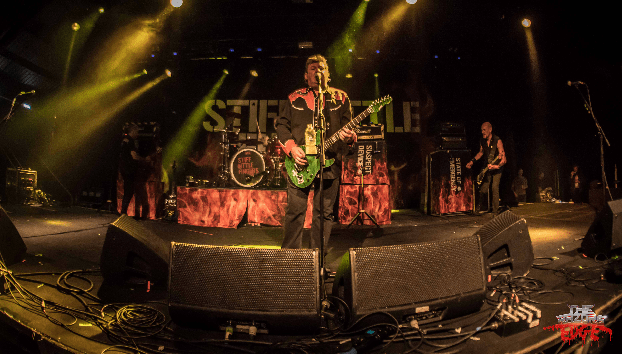 Live Review: Stiff Little Fingers - King Georges Hall, Blackburn
2nd October 2021
Supt. Vomit
Words: Dan Barnes / Photo: Tim Finch
That it's dark by quarter-past seven, blowing a gale and the rain is a scootch this side of a Biblical downpour is leading me to think the best of the summer is behind us; but, those oncoming dark nights usually mean bands are touring and, after a year and a half of inactivity, the more the merrier. The first gig I had postponed when the world stopped turning back in March 2020 was Stiff Little Fingers' 20/20 Vision Tour at the Ritz in Manchester and, although that show is now scheduled for March 2022, tonights unexpected addition to the calendar is just too sweet to pass up.
Having had to pull their UK tour after only three shows it was pleasing to see the 20/20 Vision backdrop and stage set being used. The creature-feature monster comic book look of the drapes went some way into letting us forget the past eighteen months as a bad fever dream.
First up is Congleton's finest punk export, Vomit, who crack out forty-minutes or so of old school classic 70s era punk rock. Vocalist Lee Campbell chugs a beer and plays the amiable host, leading his charges through a mix of obnoxious, snotty-noses tunes alongside a few ska-inspired numbers. There set is a mix of old and new, with the newest album, Lucre and Vice, being well represented in the set. It's obvious from the word-go that Vomit are both excited to be back on stage in front of people and to be supporting a band that is dear to their hearts.
Props to Vomit, but we're all here to see Stiff Little Fingers, who are taking a break from putting the fast in Belfast and are, instead, putting the burn in Blackburn (can't take credit for that as I saw it on a tee shirt!) with Jake and company torching the Windsor suite from the very start.
There's a sense of anticipation that seems palpable and we're all waiting form the opening of Go For It, the Fingers' now tried and trusted intro tape. But before that, we're given a medley of 70s and 80s TV theme tunes, ranging from Captain Pugwash to Minder, by way of The Wombles. As the demographics of a SLF show is folks in of a certain age, many of whom bring the kids (shout out to Ruth and Chris for bringing young Will to his first ever gig), there were lots of bemused young faces as lots of old-gits sang-along to "Underground, overground, Wombling free…" and "I could be so good for you."
The instrumental Go For It has become a singalong in its own right and sets the band up ready to kick into whichever track they choose to open with. Tonight, it's Roots, Radicals, Rockers and Reggae, which sees the volume raised even higher than during the intro.
There are no surprises in the set tonight, only the order in which they are played. Apart from the obvious tunes, no Fingers show would be fully complete without Just Fade Away, At the Edge or Tin Soldiers; My Dark Places, from 2014's No Turning Back is now a permanent fixture in the set and it's good to see Strummerville keeping its place.
On the Down to the Bone tour in 2018 and the Ignition tour a year later we were treated to some new material so, with the downtime enforced on the band recently, hopes were high that we would get another newbie. Instead, we got 16 Shots, from 2019, written by Jake about an incident in his now-home town of Chicago and having been given a fresh perspective in light of global events over the past year or so.
Stiff Little Fingers always bring their A-game and hit the stage with a fury and passion honed across decades of gigging around the globe. Songs like State of Emergency, Wasted Life and the cover of The Specials' Doesn't Make it Alright have the punk ire baked into every line and every note. Yet, for all the firebrand, fist-pumping punk anthems, SLF's Northern Irish roots show through in the lyrical whimsy of Barbed Wire Love and the musically upbeat Silver Linings, with its 'sucks to be you' message.
But you don't serve your time touring like the Fingers without having absolute musts, so when they close the set with Suspect Device and Gotta Getaway the room erupts and bodies go flying – which is no mean feat when you consider the demographic of the crowd. Staff at Blackburn General were probably perplexed by the sudden Sunday morning influx of damaged hips. The cranking guitar opening to Suspect is custom-made to get a body moving and the singalong nature of Getaway insists on audience participation.
The band return for the obligatory encore and they go back to the beginning with Johnny Was… and Alternative Ulster, both from the Inflammable Material debut which, if you haven't heard it for a while still sounds as fresh today as it did back then.
It had been a long time between SLF shows and theirs being the first one cancelled may have made the wait seem longer, but tonight's performance showed Jake and company are chomping at the bit to get back out there and continue their mission of growing old disgracefully.
2022 will see Stiff Little Fingers finally able to tour again in the Spring and they are already booked in for Rebellion and HRH Punk festivals. With their popularity on the increase and demand for live shows ever growing, it doesn't seem like SLF will be going anywhere in the near future. Now, if we could get a new album, that would be swell.