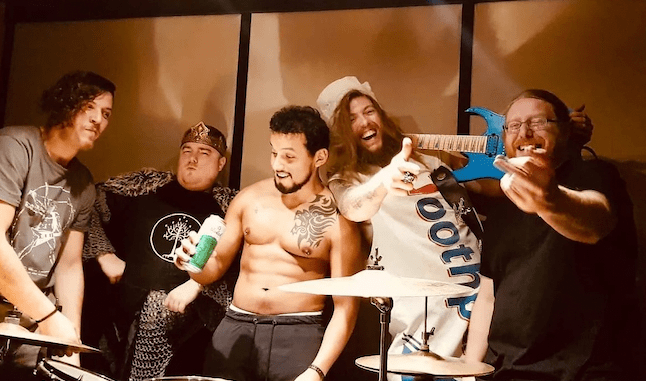 E.P. Review: Bangover - Close Encounters of the Thrash Kind
Reviewed by Paul Hutchings
I like Bangover. The London five-piece combine old school thrash with a modern vibe in a way which you cannot help but enjoy. This three-track E.P. is their first new music for a few years but it's one that grabs you by the throat and screams "we're back!!"
The title track begins with excerpts from the Spielberg 1977 sci-fi 'Close Encounters of the Third Kind' before exploding into the kind of thrash we'd expect from the band. Pacy, visceral and without any inhibition, Bangover nail their colours to the thrash mast. Catching the science fiction theme full frontal, there's humour and passion in an energetic eight-minute song that is well crafted and superbly executed. Once those first riffs kick in then it's impossible not to raise a smile.
This is a cracker of a story and a full-blooded thrasher that punches neatly, developing confidently and fluidly as it builds towards a huge crescendo. It's a track you can listen to on repeat and simply enjoy repeatedly.
The other two tracks are just as welcome, if a little more straightforward. A solid drum pattern introduces the slightly sinister 'Crop Circle Pit' which soon evolves into a heads down old school thrasher whilst 'Blood Sweat and Beers' is the anthem of the entire metal movement. Both songs are enjoyable, enough to slot into live shows with the latter anthemic in the same way that the likes of Evile, Shrapnel and Blacklist have thrown out in the past, you can't knock it in anyway. It may not be the reinvention of the wheel, but Bangover bring enthusiasm in spades and a maturity that is slowing oozing through.