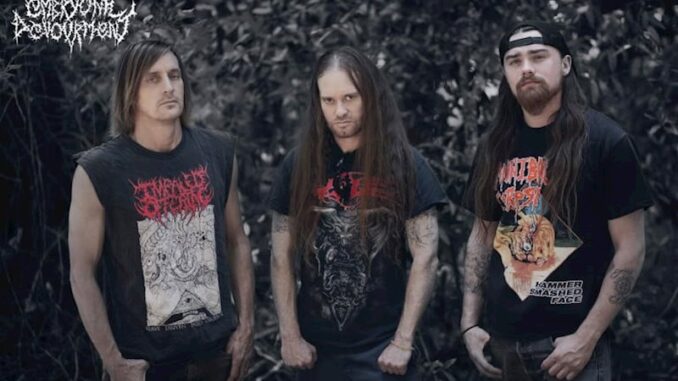 Album Review: Embryonic Devourment - Heresy of the Highest Order
Reviewed by Patrick O'Reilly
Death Metal, although firmly rooted in the domain of Horror has often flirted with Science Fiction leading to some incredible albums such as 'Spheres' by Pestilence or more recently Leeds based Cryptic Shift's incredible debut album 'Visitations from Enceladus'
Embryonic Devourment have turned to a particular strand of science fiction or is that science fact? In that their main themes are of reptilian beings infiltrating the earth and assuming positions of power. A classic with conspiracy theorists for a long time this particular brand of theory was most famously brought into the public eye by former Coventry City goalkeeper David Icke, whose theories of reptilians from the planet Nibiru controlling the earth and its governments have enthralled many around the globe (assuming the earth is round?).
Embryonic Devourment this time focus the album on portraying how things are from the reptilian's point of view with vocalist Austin Spence explaining
"The lyrics are from the viewpoint of these reptilian beings. I spent many nights channelling their thoughts through a unique interstellar Ouija board that I made myself."
Although I can't speculate on what these lyrics are as I have no access to a lyric sheet with my review copy and this being death metal it is hard to make out the words this is something I will be revisiting to read once the lyrics are made available.
Musically this is technical death metal, sometimes brutal, sometimes more melodic though with a dissonant, harsh edge to many of the riffs. All the musicianship is exquisite and the production renders everything eminently listenable, drums are snapping and tight, the bass rumbling and meaty whilst the guitars are chunky and have a great tone. The lead work on this album is exceptional and I really enjoyed listening to the solos.
Track 1, 'Kathy O'Brian', an ode to an infamous case of claimed extra-terrestrial abuse and dominance by reptilians is intricate and opens the album superbly. Tracks mainly stay fast paced with plenty of blast beats although the odd heavier breakdown does appear occasionally. Slower number, 'Manipulation of the Senses' impressed me most with its groovy lead guitar riff in the middle section and is as good a death metal track as you will probably hear all year in my opinion.
Topped off by great cover art showing various heads of state with their reptilian features on show makes for a great album for fans of tech death or reptilian overlords!!
I would recommend this album in particular for fans of – Decrepit Birth, Origin, Deeds of Flesh, Necrophagist