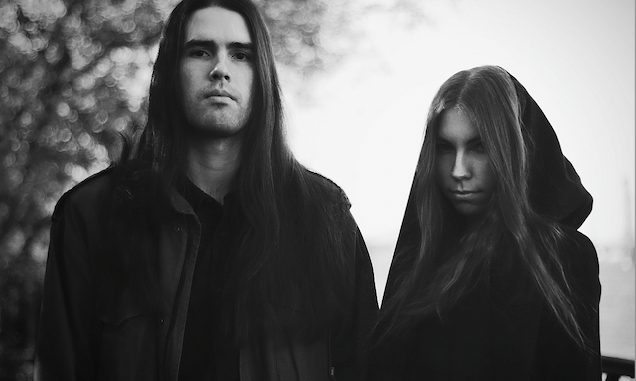 Album Review: Inner Missing - Dead Language
Reviewed by Neil Bolton
This Russian gothic metal duo Inner Missing have an operatic sound that gives them a sense of doom and tragedy. Their earlier work was more in the doom / death metal camp; the years have seen them bring in a more epic gothic sound, thick with clean deep haunting powerful vocals.
This album should be consumed in an old wreckage of a ruined church, or ancient concert hall, instead of a high end sound system. Although in saying that, if I close my eyes while 'Dead Language' is playing, I am instantly transported to such an auspicious place. This music is soaking in dark melancholy and theatrical sentiments.
Sigmund's vocals are a major part of this sound scape. His voice is warm and menacing with a classical tinge elevating their sound even further from the norm. Melaer adds atmosphere with her bass and keyboard playing skills. Sigmund also carries out guitar duties combining with his rich voice.
The music throughout the album is varied but always metal. The dark gothic atmosphere never wains, but does mix well with the other sounds on display here. There are brief blasts of black metal subtly mixed in the occasional trad sound of clean 70's guitar solo's.
Metal is the winner in this mix but there is no attempt to reach the Spotify top ten here. Every emotion or mood always seems genuine and real, and certainly different. So much so that with each listen I find myself hearing more, and liking more, about this album.
Fans of My Dying Bride and Paradise Lost can have a wonderfully dark time with this opus. Inner Missing's sound is not identical to these aforementioned bands but it certainly should appeal to the same demographic. There is no mention of the drummer of who takes on this percussive task but they are equally as good at their job as Sigmund and Melaer are at their's.
'The Quest' is a dark light emerging from the cold, shady winters of Saint Petersburg. We have here a well produced somber, dark, and interesting album, with layers and layers yet to be discovered.