DEVIL'S ISLAND featuring Black Lakes
Welcome to this weeks edition of Devil's Island! Every week we maroon a band or artist on the island and see what they get up to, how they cope with being all alone on a small island in the middle of the ocean. It's not your average desert island and we'll see just how each person copes with the extreme conditions.
This week when we arrived at Devil's Island we find Black Lakes sat on the beach. The island is far from their home, so how did they end up here and how did they cope with life on Devil's Island?
Find out now...  
Welcome to The Razors'e Edge and our somewhat lovely, warm desert island. Don't worry about it's name I'm sure it's not as bad as that would suggest. 
So you're marooned here on this island, but before you ended up shipwrecked you chose one album that you couldn't live without. Which album did you each chose and why?
Lee: Metallica - And Justice for All. Given to me in primary school on a shitty tape recording, after previously listening to Maiden and WASP, this blew my mind and I still listen to it regular.
Will: HIM - Venus Doom. HIM have been my favourite band for over half my life, and I feel this is the seminal album. If I could only take one, it's got to be the best of the best.
Scott: Rumours by Fleetwood Mac - it's a timeless classic
James: Alice in Chains - Dirt. Great album at a great time of my life. I vividly remember driving around the coasts of Pembrokeshire as an 18 year old, listening to this album relentlessly, searching for waves to ride!
Daf: Black Sabbath-Masters Of Reality. This album has everything that I enjoy about heavy music. It's got groove, energy and Ozzy! Let alone the fact it's an absolute classic album. It's a bit nostalgic for me as I used to listen to A LOT of Sabbath when I was first getting into heavy music as a teen and this album was on repeat a lot of the time
Dylan: Karnivool – Sound Awake, simply because every time I listen to it, I find something new, it's a sick album and I love it.
Just behind that palm tree is a shack for each of you to stay in, with enough space for you to put up a poster on the wall of one album cover. What album cover do you each chose?
Lee: I used to have a Vulgar Display of Power on my wall as a kid, so that probably
Will: My bedroom when I was younger was absolutely coated in posters. No wall in sight. I think if I could go get one of those and stick it up, it would be the original 151 Pokémon chart!
Scott: Megadeth's Youthanaisa - it's a great cover in my opinion.
James: Pink Floyd - Wish You Were Hhere
Daf: TOOL - 10,000 Days. I've never really appreciated artwork until I discovered TOOL, I care more about the music in general (which TOOL excels in hugely!) but there was something about the psychedelic vibes and meanings behind the artwork of enlightenment that made me realise how artwork can be very important and meaningful
Dylan: 100% Deftones – Around the Fur
There's also a bar on this here island. But alas each of you only get to choose one drink for the entirety of your stay. What's your tipple of choice?
Lee: Currently a big fan of a negroni, so that and a pint of Guinness in a coconut
Will: Kraken! James and I are both big Kraken drinkers, so if I can convince him to pick coke, then that's us sorted.
Scott: Water for me - I don't drink.
James: Kraken rum!
Daf: Dr. Pepper. Yes I like Dr. P, get over it! Far superior to Coke or Pepsi! COME AT ME!
Dylan: Old J Spiced Rum and Coke
You're sat on the island thinking "I'm stuck here on this island with my bandmates for eternity"… who would you rather have been shipwrecked with?
Lee: Probably my dog, I can live without people
Will: I'm not stuck here with them, they're stuck here with me...
Scott: Liv Tyler I think as then when we're rescued, we can hang out with her Dad too. Two for one, that one.
James: My band mates. I'm a glutton for punishment
Daf: Ozzy. I think I could listen to Ozzy tell stories about his time on the road for years. I've already watched enough YouTube videos on the dude so I'd love to actually sit down with him for a chat.
Dylan: I don't know someone funny probably, maybe Will Ferrell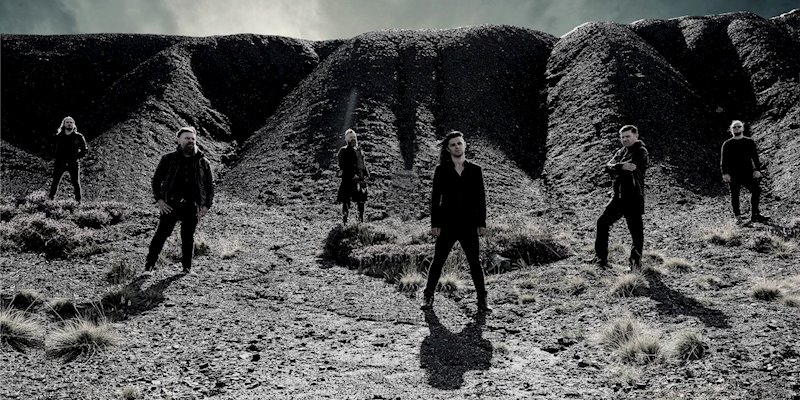 There's a walkman in your pocket, on the tape inside is the recording of the one live show that stands out for you. It could be any show, from any band, anywhere in the world. What show is on that walkman?
Lee: Megadeth supported by Pantera in Newport Centre, 1992
Will: The Offspring with support from AFI & A, jan 2001 SSE Arena, London
Scott: Walkman - Jesus, do you have a time machine as well? Probably Nine Inch Nails at Reading 2007 - that set had it all. Everything!
James: Rage against the Machine/Berkeley/92
Daf: Don Broco live at the Bristol O2 2021. Man, what a gig, what a sound, what a band. The energy that Don Broco bring to the arenas is unmatched and the way they engineer their live sound is impeccable. The O2 was packed and completely sold out and was my first proper concert since the lockdowns so I loved every minute and would love to relive it.
Dylan: Rage Against the Machine, PinkPop 1993
You're getting desperate, you decide the only course of action is to put a message in a bottle and hope someone finds it. Your message could be to any member of any band, but should be the most suitable for a rescue attempt. Who is it?
Lee: Got to be Bruce Dickinson hasn't it? He could fly in and get us the hell out of there
Will: Doesn't David Gilmore have a houseboat that he converted into a recording studio? I'm not a Pink Floyd fan, but if he can look past that, I'm gong to go with him, then he could pick us up, and depending on how long we've been stranded, we may be able to get some new music recorded while we sail home!
Scott: Probably Sting - he seems to have a lot of experience with messages in bottles.
James: Kieth Richards - He's survived life and was a pirate!
Daf: My message in a bottle to any band member would be:
"just a castaway, an island lost at sea, oh
Another lonely day, with no one here but me, oh
More loneliness than any man could bear
Rescue me before I fall into despair, oh
I'll send an S.O.S to the world
I'll send an S.O.S to the world
I hope that someone gets my
I hope that someone gets my
I hope that someone gets my
Message in a bottle, yeah".
Not cause I'd wanna be rescued, just thought it'd be funny.
Dylan: Fred Durst, he would know what's up
You've been stuck here for a while and food supplies are running low. There's only one thing for it... which fellow band member gets sacrificed to help the others survive?
Lee: Two choices, more meat on Scott and James but the younger guys be more lean and less chewy
Will: It will have to come down to rock, paper scissors to see who takes one for the team! I'm not sure any one of us would be a particularly enjoyable meal.
Scott: I'd probably just top myself - saves any of the arguments. It'd have to be James or Dylan - we have 3 guitar players so could still play without one of them. It's science.
James: No one. We're a band. If anyone has answered this question differently, I'll be having words.
Daf: Le! He's a bass player, who cares.
Dylan: Probably James, it would be something he would want
Finally, when the ship sank you each managed to save one person from the wreckage. That person is the one musician that has influenced your career the most, shaped your way of thinking and your outlook on life. Who did you save?
Lee: None of them, I would rather take musical influence from the musicians that are relevant to my current situation. So in that case, Black Lakes
Will: That's a really tough question. I think by the time I came to a decision on that one, everyone in consideration would have long since drowned!
Scott: I'd probably take Jerry Cantrell from Alice in Chains - we can spend some time learning all those killer Alice in Chains riffs.
James: Trent Reznor
Daf: Maynard James Keenan. His work with bands like TOOL, Puscifer and A Perfect Circle have influenced me so much in terms of sonics and song writing. Not to mention he is lyrically intelligent and has been a source of inspiration for me and has made me think a lot about my outlook on life and taught me through his lyrics not to limit myself and open my third eye.
Dylan: Got to be John Frusciante