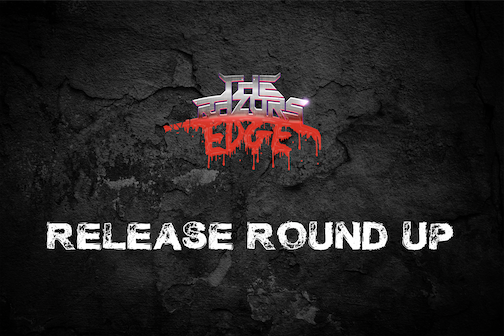 Release Round Up - May 6th, 2022
Every Friday there is a tidal wave of new music released unto the world. Whilst we try to cover as much as possible here at The Razor's Edge, it's not always possible to review everything. So each week on a Friday we'll round up some of the best new music available, some we've reviewed, some we haven't, but all worth checking out!
Theres a lot of new heavy music hitting the airwaves this week, everything from black metal, death metal, gothic metal, Stoner rock, doom, thrash metal and even some of your traditional heavy fuckin' metal!
Here's what we think you should check out today!
Matthew Kiichi Heafy steps away from Trivium this week to release 'Rashomon' from his solo project Ibaraki.
"Heafy has created a surprising album melding genres like they were always meant to be intertwined."
Read our full review here.
Halestorm are 'Back From The Dead' this week as their latest album drops.
"Like a fine wine, Halestorm just get better with age and once again on 'Back From The Dead' they deliver."
Read our full review here.
Hardcore legends Terror return with 'Power Into Pain' this week, the next instalment in their battering ram of a discography.
"Its relentless display of Hardcore is Terror showing that even after 2 decades you cannot count them out."
Read our full review here.
Metal royalty  - Scott Ian, Jim Wilson, Joey Vera, John Tempesta and vocalist Pearl Aday - team up for Motor Sister's latest release 'Get Off'. Out this week on Metal Blade Records.
"The chunky riffing and driving rhythm powers the band forward"
Read our full review here.
Nick Oliveri and Brank Bjork team up once again on Stöner's sophomore album 'totally...'.
"Stöner possess an abundance of punk rock rawness and passion for real rock and roll swagger"
Read our full review here.
Haunter release an album featuring their unique brand of blackened death metal this week. 'Disincarnate Ails' comes out May 6th via Profound Lore Records.
"The riff work has this bludgeoning impact, the weight is immense and you'll be able to feel it bear down on you as you're listening."
Read our full review here.
Italian extreme metal super group Patristic, featuring members of Bedsore and Hideous Divinity, release EP 'Apologetica' via Pulverised Records.
"Patristic creates a blend of sinister black metal, which has cult status written all over it."
Read our full review here.
Dutch thrashers Disquiet  unleash 'Instigate To Annihilate' via Soulseller Records this week.
"it's a full frontal assault on all of your senses"
Read our full review here.
One man, Italian purveyor of death... Cosmic Putrefaction unleashes 'Crepuscular Dirge For The Blessed Ones' this week on Profound Lore Records.
"it rips and pulverises throughout its entire runtime"
Read our review here.
Nightstalker reissue 'Dead Rock Commandos' to celebrate the albums 10th anniversary.
"It's loud, it's heavy and at times dirty."
Read our full review here.
Richmond hardcore outfit Armagideon Time drop blisterings new EP 'Crime As punishment' via Anti-Corporate Music this week.
"combine ripping d-beat with uncompromising hardcore to scream at the injustices of the world."
Read our full review here.
Stoner/doom is out in force this week and Wo Fat join the fray with new album 'The Singularity' released on Ripple Music.
"the sheer bombardment of awesome riffs that Wo Fat deliver in spadefuls."
Read our review here.
Tzompantli release Death/Doom opus 'Tlazcaltiliztli' this week via 20 Buck Spin.
"an album of crushing power from start to finish"
Read our full review here.
Silverstein's hardcore heritage shines through on new album 'Misery Made Me' via UNFD.
"their sound with a ferocious rumbling bass and the discordant, edgy, riffing"
Read our full review here.
And thats just the tip of the iceberg! Other releases today we think you should check out include...
Rock / Hard Rock / Classic Rock
Brave Rival - Life's Machine (Self-released)
Britof - Ruins (On Parole Productions)
Lu Silver - Luneliness (Go Down Records)
Rumours - The Lower We Sink, The Less We Care (Lupercalia Records)
Tau & The Drones Of Praise - Presents Dream Awake: Live At Roadburn Redux (Burning World Records)
The Chase - Not The F*cking Game Show [EP] (Golden Robot Records)
Three Days Grace - Explosions (Music For Nations)
Windwaker - Love Language (Fearless Records)
Xander and the Peace Pirates - Order Out Of Chaos (BFD Distribution)
Death Metal
Christian Death - Evil Becomes Rule (Season of Mist)
Depressed Mode - Decade of Silence (Inverse Records)
Gwendydd - Censored (Drakkar Entertainment)
Harvested - Harvested [EP] (Self-released)
Haunted By Silhouettes - No Man Isle (Eclipse Records)
Morgue Supplier - Inevitability (Transcending Obscurity Records)
Posthuman Abomination - Mankind Recall (Comatose Music)
Rise To The Sky - Every Day, A Funeral (Meuse Music Records)
Sepulchral Curse - Deathbed Sessions [EP] (Personal Records)
Skullshitter - Goat Claw (Nerve Altar)
Tenebro - L'inizio di un Incubo (Xtreem Music)
Ulthar - Nightgaunts MMXVI (20 Buck Spin)
Black Metal
Djevelkult - Drep Alle Guder (Soulseller Records)
Feral Lord - Vires In Absoluto (Geistraum Records)
I Am The Night - While The Gods Are Sleeping (Svart Records)
Iku-Turso - Into Dawnless Realms (Wolfspell Records)
Nirensimt - Ecstacy/Agony (Self-released)
Tómarúm - Ash in Realms of Stone Icons (prosthetic Records)
Vital Spirit - Still as the Night, Cold as the Wind (Vendetta / Hidden Tribe)
Stoner Rock / Psych / Doom / Sludge
Fuzz Meadows - Orange Sunshine (Copper Feast Records)
Korseld - Jordevandring MMXXII (Self-released)
Row of Ashes - Bleaching Heat (Surviving Sounds)
This Summit Fever - The Beyond [SINGLE] (Self-released)
Ufomammut - Fenice (Neurot Recordings)
Thrash Metal
Survive - Live at Death Valley (Pest Records)
The Damnation - Way of Perdition (Soulseller Records)
Prog Rock /  Metal
Pure Reason Revolution - Above Cirrus (Inside Out Music)
OU - One (Inside Out Music)
Industrial Metal
Citizen Anomaly - The Paradox Project (Self-released)
Powerless - Hold Me Down (Sentient Ruin)
And the rest...
Arc Arrival - Amethyst [EP] (Self-released) [Metalcore]
Guilt - Conceit [EP] (Smartpunk Records) [Post-Hardcore]
IJdelheid - Unholy (Onism Productions) [Post-Punk/Neo-Folk/Shoegaze]
Krilloan - Stories of Times Forgotten (Sliptrick Records) [Power Metal]
Puppy - Pure Evil [Grunge/AltRock]
Red City Radio - Live at Gothic Theatre (Pure Noise Records) [Punk]
Syberia - Statement on Death (Metal Blade Records) [Post-Metal]