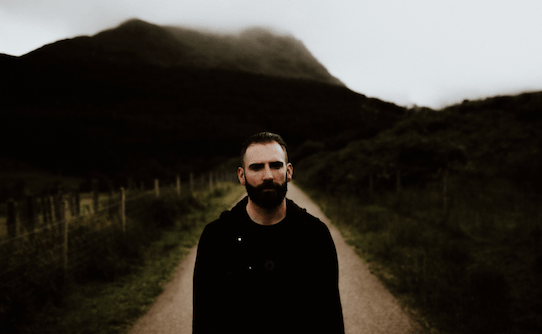 Album Review: Saor - Origins
Reviewed by Paul Hutchings
For any celt, 'Origins' is a release that should stir the emotions, pump the blood, and swell the chest with passion and pride. Even for non-celts, this is an album that'll make you feel like one of us. Inspired by the main theme of the Picts, 'Origins' evokes wild imagery, tough and ruthless times, and all under the auspices of the most guitar heavy album that Andy Marshall has made in his decade under the Saor banner.
Starting with 2013's 'Roots', Marshall has followed his own path and inspirations, combining black metal with folk in an atmospheric hybrid blend that has drawn ever increasingly sized audiences. 2019's 'Forgotten Paths' was the band's last release before the pandemic, with Marshall admitting he spent time in lock down indulging in classic heavy metal listening, which has translated to some of the music on 'Origins'.
'Origins' is an album of epic, soaring highs. The music is captivating, creative soundscapes that incorporate the sound that is described as Caledonian metal. From the opening 'Call of the Carnyx,' which references the ancient Celtic horns used to call the Picts to battle to the sweeping title track that closes the album, the combination of crushing black metal, folk elements and calming, gentle passages which provide respite from the aural storm that rages all around.
I've observed in other reviews that solo artist projects can be a challenge. The reliance on one musician can mean a struggle to keep the music organic and natural. This is something that Marshall has avoided on all his releases and 'Origins' maintains that with a solid feel. The music flows throughout.
Each track brings something different. There are no highland jigs, yet there is a definitive Scottish feel to 'Fallen', with its upbeat feel. The riffs flow on 'The Ancient Ones,' cascading in rivers that carve their way through the craggy landscape. The first track to fully drop into black metal in style, the blast beats, riffs, gravel-soaked roars, and layered synths work in harmony, the powerful passages balanced by more melancholic elements.
'Origins' grows on every listen. Even after a dozen plays, I'm still absorbing it. The lengthy pieces fly by, with the aural soundscapes that are created engrossing and enchanting. You can lose yourself in the eight-minute majesty of 'Aurora,' and allow your imagination to run riot on 'Beyond the Wall,' another blend of ferocious riffs and melodic synths that swell the sound. Closing with the title track, which suggests calls to war, battles and patriotic imagery, Saor's fifth album is arguably Marshall's finest work. If you are a fan of Winterfylleth, Ruadh, Wode etc, then this is an album that you should have on your list.