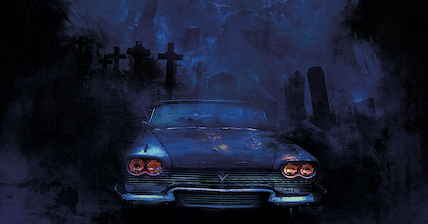 Album Review: The House - Horror Tribute Collection
Reviewed by Rick Eaglestone
I think nearly everyone remembers their first venture into horror movies, for me it involved sneaking downstairs aged 9 to discover 1985's Demons and for Vladimir Pavelka creator of The House it was accidentally discovering Evil Dead – Fast forward to 2022 and now we have his tribute to famous horror soundtracks and films.
The track list reads like a time capsule of terror with some surprises featuring eight tracks in total.
First up and staying quite loyal to the original is 'A Nightmare on Elm Street' which maintains it's soundtrack like quality so when the familiar chimes of 'The Exorcist' Started I almost expected the same but when it suddenly incorporated an added black metal element I must admit I was more than a little taken aback just to how well it worked and honestly is something I've never experienced before – hearing the two elements pieced together in such a way.
The surprises continued with a very stitched together version of 'Halloween' which had an abundance of quotes with great synthwave feel to it.
Highlight track for me must be 'Pet Cemetery' again blending elements this track featured gothic rock guitar tones with harsh vocals I thought that nothing would top the original, but I just can't get enough of this version, this is then followed by the very dungeon synth sounding version of 'The Shining'.
Both 'Susperia' & 'Phantasm' are great choices for this collection and fit the overall 80's aesthetic of the album perfectly. Final offering "Christine" is a guitar laden delight that ends what has overall been a pleasant listening experience.