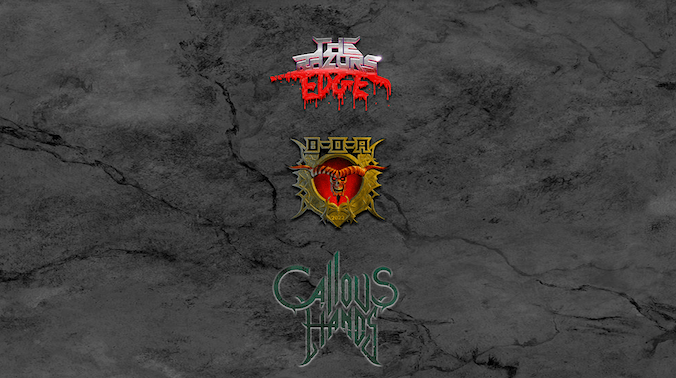 Bloodstock 2022: Introducing - Callous Hands
As Bloodstock gets closer, we delve deep into the line up to find out more about some of the bands playing the New Blood and Jägermeister stages at this years event.
Today we chat with Eddie, guitarist with Callous Hands!
The Razor's Edge: Please introduce yourself and your band mates.
Eddie: I'm Eddy (guitar) and we have Kieran on vocals, Jim on guitar, Adam on the drums and Honcho on bass.
The Razor's Edge: How would you describe your style of metal?
Eddie: Our style is a mix of groove metal with hardcore death and doom influences.
The Razor's Edge: How did you land your spot on the Bloodstock bill?
Eddie: We got our spot playing the Birmingham M2TM and making it all the way to the finals
The Razor's Edge: How tough was the competition this year?
Eddie: The competition was really tough, a lot of great metal bands in Brum right now, but huge congratulations to the lads in Tumanduumband for winning! There were a few other noticeable bands that didn't make it to keep an eye out in the future for sure.
The Razor's Edge: What does playing at Bloodstock mean to you?
Eddie: Bloodstock is something we've been working towards playing for years, and to finally get there we are over the moon.
The Razor's Edge: For people who've never seen you live, what can they expect at Bloodstock?
Eddie: For people that haven't seen us yet, expect a fast tempo, dynamics, heavy pounding riffs and plenty of energy on the stage!
The Razor's Edge: What day are you performing?
Eddie: We are playing the Sunday.
The Razor's Edge: What other bands are you looking forward to watching at Bloodstock this year?
Eddie: I think we're all really looking forward to Lamb of God closing on the Sunday night as they're a huge inspiration for all of us, a few other bands would be Malevolence, Jinjer and Sylosis to name a few.
The Razor's Edge: Playing the New Blood Stage is just the first stepping stone in a bands journey. What's next in your plans for world domination?
Eddie: We've been working hard on new material all year and we're hoping we can share that with everyone later this year, but we just want to carry on this journey and play bigger and bigger shows.