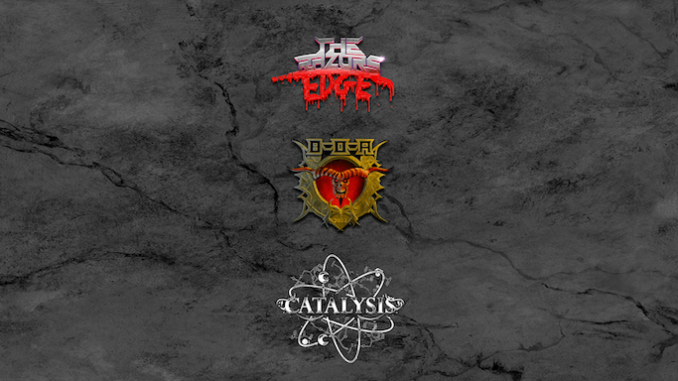 Bloodstock 2022: Introducing - Catalysis
As Bloodstock gets closer, we delve deep into the line up to find out more about some of the bands playing the New Blood and Jägermeister stages at this years event.
Today we chat with Drew, guitarist with Catalysis!
The Razor's Edge: Please introduce yourself and your band mates.
Drew: I'm Drew, and I play lead guitar. We've also got Sean on rhythm, Col on vocals, Calum on drums and Pabs on bass.
The Razor's Edge: How would you describe your style of metal?
Drew: A lot of groove and thrash inspiration, mixed with influences from death metal and more modern metalcore stuff too. A melting pot of all the good stuff, basically.
The Razor's Edge: How did you land your spot on the Bloodstock bill?
Drew: Through Metal 2 The Masses. We were previously finalists in 2019, but this year we took the crown.
The Razor's Edge: How tough was the competition this year?
Drew: Very. Right from the outset, we saw that Certain Death were in the running too, and they were our main cause for concern throughout. Rightly so, as they were so great in the final that they won a slot on the Jager stage!
The Razor's Edge: What does playing at Bloodstock mean to you?
Drew: It feels like years of hard work in the band, building our reputation as a live act have finally paid off. We've had a few good support slots in the past with the likes of Sacred Reich and Broken Hope, but nothing of the magnitude of this slot.
The Razor's Edge: For people who've never seen you live, what can they expect at Bloodstock?
Drew: A high energy live performance. We're not a band who stand still and bob our heads a bit. We're really looking forward to having a bigger stage to utilise and will be 100% taking advantage of that. We've got a genuine chemistry on stage and I think that comes across to the audience too. For every "guitar face gurn" there's a genuine smile – and nothing goes together better than blast beats and smiling!
The Razor's Edge: What day are you performing?
Drew: Friday!
The Razor's Edge: What other bands are you looking forward to watching at Bloodstock this year?
Drew: The main ones for me personally are Avatar, Bury Tomorrow and Orbit Culture. We'll be checking out Vio-Lence too, their guitarist Phil Demmel did a solo on our full length record in 2020. He's a friend of the band. Of course, we'll also check out as many of the other New Blood acts as we can, and also try to catch Certain Death, Solar Sons and Party Cannon as we're all representing the talent North of the border this year.
The Razor's Edge: Playing the New Blood Stage is just the first stepping stone in a bands journey. What's next in your plans for world domination?
Drew: To use the connections and exposure we make at Bloodstock to push ourselves further than before. We've worked at networking a lot over our time as a band and we've done pretty well from it – we've played shows in Europe etc. This just gives us a much more focussed opportunity to meet lots of different bands, press etc and we intend to capitalise on it. We've released 4 EPs and a full length since 2017, so we fully intend to keep up the consistent output and push forward.