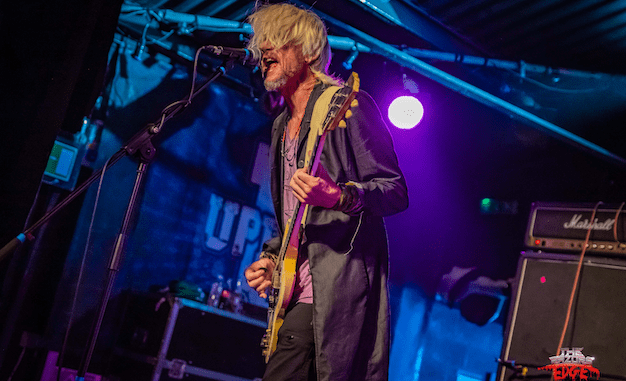 Live Review: Nebula - The Asylum, Birmingham
22nd July 2022
Support: The Atomic Bitchwax and Alunah
Words & Photos: Tim Finch
The Asylum in the centre of Birmingham is always a great venue for a metal show. Tonight, as the heatwave of last week is broken by a torrential downpour, we head into the venue to seek shelter but also to witness something very special. On the day stoner rock legends Nebula release their latest album they play in the city that birthed heavy metals forefathers.
As early revellers take shelter from the rain local favourites Alunah take to the stage. Off the back of their critically acclaimed latest album 'Strange Machine' they are building a reputation which has seen them go from strength to strength. From the off there is an energy about the bands set, opening the evening gives them a short slot and they make the most of it. From opener 'Dead Woman Walking' onwards the power of Sian Greenaway's vocals take centre stage, the doom laden riffs behind her, adding a thunderous backing to them. Closing with the high paced 'Silver' rounds out a magnificent performance.
To witness The Atmoic Bitchwax live is something special, indeed they are a band I've waited the best part of twenty years to see perform since first hearing their debut record back in 1999. The trio, made up of current and former Monster Magnet alumni, take the stage huge smiles on their faces, loving every minute of the touring life.
Kicking off with 'Hope You Die' they are in fine fettle, despite being a stoner rock band, they keep the pacing high and heads bang at speed in unison to 'Giant' and 'Houndstooth'. The dualling vocals of bassist Chris Kosnik and guitarist Garrett Sweeny work well intertwining with the musical ambience created. The band get a full hour, but it flies by so fast leaving a large crowd of fans begging for more as 'Shit Kicker' comes to a close.
It is album release day for headliners Nebula, and with their Sabbath worship prevalent in the music it is fitting they play in the forefathers hometown today. The trio are unassuming, they are not a band to blow you away with high energy on stage and instead they let the music do the talking.
Eddie Glass takes control, steering the band through their hour long set. The fuzz laden riffs of Glass reverberating around the room full of Birmingham's finest stoner rock fans. Tom Davies on bass and Michael Amster on drums laying that heavy foundation on which Glass's riffs stand tall.
There's a buzz about this set, there is something special happening, as Glass launches himself off the drum riser the fans appreciate the passion the band deliver their music with. Tonight has been special, Nebula shows always are, but with the added elements of The Atomic Bitchwax and Alunah this show has been off the scale!