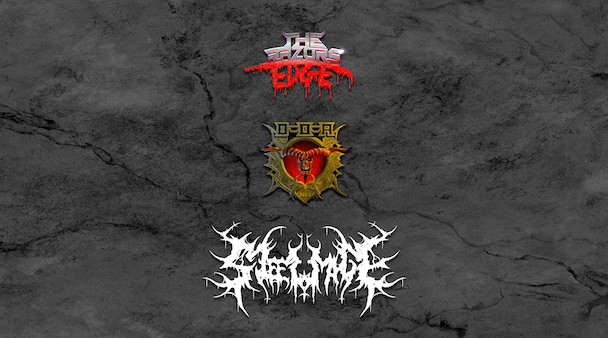 Bloodstock 2022: Introducing - Steel Mage
As Bloodstock gets closer, we delve deep into the line up to find out more about some of the bands playing the New Blood and Jägermeister stages at this years event.
Today we chat with Steel Mage!
The Razor's Edge: Please introduce yourself and your band mates.
Steel Mage: We are Steel Mage. A 5 piece melodic hardcore band based in Sheffield UK. Lineup consists of Jack on drums, Tom on bass, Josh on vocals and Chloe & Oliver on guitar.
The Razor's Edge: How would you describe your style of metal?
Steel Mage: We mix various sub genres of metal, thrash being prominent in our older material but with our new album 'As The Chapel Falls', we explored a heavier direction with elements of hardcore, nu-metalcore, beatdown and deathcore.
The Razor's Edge: How did you land your spot on the Bloodstock bill?
Steel Mage: Metal 2 The Masses was unreal this year. It was our first time in the competition and we didn't know what to expect, right from the early heats to the final, every band was top draw, it was an honour to be able to share the stage with so many amazing bands in the scene through the programme.
The Razor's Edge: How tough was the competition this year?
Steel Mage: Very tough. There was a plethora of banging bands in each heat. During our Semi final, there were 7 bands in total, all bringing their A game. But each gig was awesome and we enjoyed each one immensely. We always went in with the mindset that we'd just do what we do, and if we get through, excellent. If not, we played as heavy a set as we possibly could.
The Razor's Edge: What does playing at Bloodstock mean to you?
Steel Mage: Playing Bloodstock Festival is a dream come true. To be on the same lineup as bands such as Lamb of God and Exodus which were some of the bands that really got us into metal along with some of our current favourites such as Lorna Shore, Jinjer, Malevolence, Guilttrip and Ingested is surreal. It still hasn't sunk in. We are massively grateful for this opportunity and can't wait to perform.
The Razor's Edge: For people who've never seen you live, what can they expect at Bloodstock?
Steel Mage: For those who haven't seen a Steel Mage set before, expect 30 minutes of non stop energy and raw emotion to ensure we provide a set that Bloodstock goers won't forget for some time to come.
The Razor's Edge: What day are you performing?
Steel Mage: We are performing on Saturday 13th August at 3pm on the New Blood Stage.
The Razor's Edge: What other bands are you looking forward to watching at Bloodstock this year?
Steel Mage: We are really stoked to be checking out some of the other New Blood bands such as Portrayal Of Ruinn, Cast in Tephra and Karmas Puppet to name a few and of course along with some of the bigger bands such as Malevolence, Guilttrip, Ingested, Exodus, Heathen, Testament, Bloodyouth and Heriot.
The Razor's Edge: Playing the New Blood Stage is just the first stepping stone in a bands journey. What's next in your plans for world domination?
Steel Mage: We want to get out on the road and continue promoting our debut album 'As The Chapel Falls' through the summer/autumn time and towards the back half of the year, we will return to the studio working on brand new music to be released sometime in 2023. We have a very exciting few months ahead!