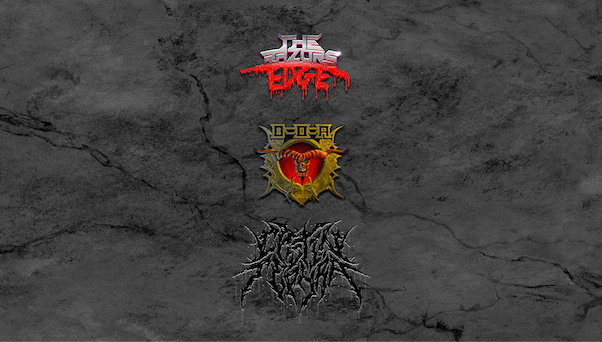 Bloodstock 2022: Introducing - Cast in Tephra
As Bloodstock gets closer, we delve deep into the line up to find out more about some of the bands playing the New Blood and Jägermeister stages at this years event.
Today we chat with Shaun of Cast in Tephra!
The Razor's Edge: Please introduce yourself and your band mates.
Shaun: Hey there I'm Shaun Payne andy band mates are Ryan Thirtle, Ben Tait, Tom Ferguson and Nathan Taylor
The Razor's Edge: How would you describe your style of metal?
Shaun: I'd describe it as brutal deathcore, we take influence from a lot of heavy and extreme genres to create our sound

The Razor's Edge: How did you land your spot on the Bloodstock bill?
Shaun: We managed to win the Newcastle M2TM competition.
The Razor's Edge: How tough was the competition this year?
Shaun: Oh it was ridiculously tough this year! The bands on the Newcastle scene are so talented and every single one gave their all to show exactly who they are.
The Razor's Edge: What does playing at Bloodstock mean to you?
Shaun: It means everything to be honest with you, all the members of the band have been grafting day and night to take this as far as we possibly can and to be able to play a festival we know and love is going to be an honour we'll never forget.
The Razor's Edge: For people who've never seen you live, what can they expect at Bloodstock?
Shaun: A lot of energy and intensity! We bring everything we have to our live show and play them as if its our last, expect a lot of riffs and breakdowns and plenty of opportunities to mosh, headbang, 2 step etc.

The Razor's Edge: What day are you performing?
Shaun: We're playing on the New Blood stage on the Saturday.
The Razor's Edge: What other bands are you looking forward to watching at Bloodstock this year?
Shaun: We can't wait to see our brothers in BOZ, Portrayal of Ruinn, Steel Mage and Karma's Puppet tear up thier slots but were also looking forward to the likes of Malevolence, Dimmu Borgir, Lamb of God, Party Cannon and a load more if I'm honest.
The Razor's Edge: Playing the Jägermeister Stage is just the first stepping stone in a bands journey. What's next in your plans for world domination?
Shaun: Our next step is already in motion we've been booking shows for throughout the rest of 2022 and we have started working on our next release! We'll be playing an unreleased single at our Bloodstock performance.
The Razor's Edge: See you at Bloodstock in a few days!
Shaun: See you there dude, It's gonna be a hell of a weekend!