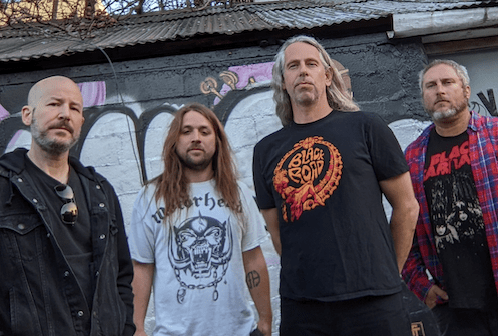 Album Review: Freedom Hawk - Take All You Can
Reviewed by Matthew Williams
For all of us, life can be hard in many, many different and unique ways and we will seek solace in our favourite music or artist and it helps to soothe the pain of the everyday grim reality and takes you off to a place where you feel comfortable, relaxed and safe.
The latest release from Freedom Hawk, is one such album that for many will be their cradle to hold on to, their comfort blanket to cwtch up to (look up that word) as it's an album that gives people that love that they desperately need, through the delivery of tasty blues melodies, driving harmonies and killer song structures, that will have you immediately hooked.
The Virginia Beach based heavy rockers have long established their own distinct sound of heavy riffs, rolling grooves and soulful melodies, but with this latest release entitled 'Take All you Can' they have a collection on nine songs that are arguably their strongest to date and the foursome are ready for the world to sit up and listen.
It's easy to be drawn into comparisons with other bands, but the vibe that flows throughout each song is so refreshing and you can tell it's a band who are comfortable with each other and pouring their heart and soul into each and every note, and it all begins with a beat from drummer Lenny Hines before a bit of feedback and, bang, the guitars from TR Morton and Brenden O`Neil kick in releasing 'Age of the Idiot' onto the world and the listener is immediately pulled in, but it's the next song 'Take All You Can' that really kicks the album up another level. Everything about it is just perfect, that killer riff throughout the song, the rhythmic bass line from Mark Cave, it will have you headbanging and air guitaring in no time, as it really is a sublime piece of music.
The genius levels certainly don't drop, and the opening to 'We all need Rock n' Roll' is all dreamy with a heavy 70's vibe, and makes you think about riding the waves in a warm sun before partying on the beach with a bottle of JD. But the band add more depth and variety to their music with down tempo songs like 'Seize the Day' which rolls the groove alongside the soulful voice of TR Morton.
I could eulogize about this album all day, all week, all month, all year if needs be, because it really is THAT good, as it encapsulates pretty much everything that I like in an album and the standard doesn't drop from start to finish, just listen to the epic 'From the Inside Out' with its killer riff and melodies, or the hypnotic bluesyness of 'Skies so True' or the ridiculously brilliant final track 'Desert Song' with the wonderful Hammond esque organ meandering throughout the song, perfectly intertwined with another harmonic blues riff which creates a song that is oozing with feeling and heartfelt emotion.
So, when's the UK tour please chaps?