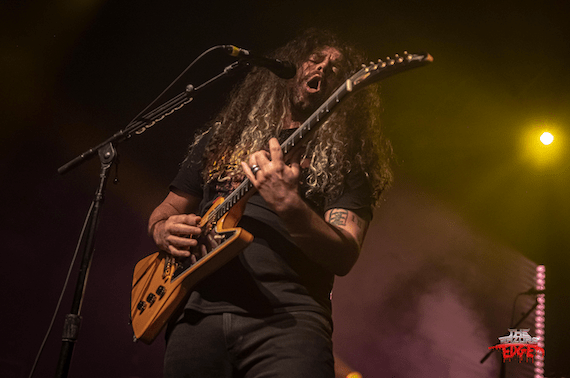 Live Review: Coheed and Cambria - O2 Academy, Birmingham
15th October 2022
Support: Thrice, Touché Amoré
Words & Photos: Tim Finch
The O2 Academy in Birmingham beckons this evening for what promises to be an interesting event. Coheed and Cambria have taken concept albums in the progressive rock genre to a whole new level and established themselves as a force to be reckoned with.
Despite the early door time, the evening starts later than I had expected, allowing the venue to fill up before openers Touché Amoré take to the stage. The Californians take that 90's west coast nu-metal sound defined by the Deftones and add elements of hardcore and emo into a unique meld of post-hardcore, the result of which is an interestingly layered sound. Frontman Jeremy Bolm throws himself round the stage as the band play through 'Come Heroin', 'New Halloween' and 'Rapture' to the superb closing number 'Flowers and You' with its heartfelt, moving lyrical content.
The post-hardcore continues as Thrice take to the darkened stage. Highlighted only by thin plumes of light projecting the bands silhouettes upon the audience. The set, split into three segments, opens with the more recognisable/older material. 'Colour of the Sky', 'Scavengers' and 'Black Honey' all feature early on.
As they continues it's an emotional rollercoaster of highs and lows through a career spanning set. 'Idols' and 'Red Death' highlight the second segment of the performance before the show progresses into Act III which is suitably rounded out with 'Robot Soft', 'Beyond the Pines' and 'Earth'.
Despite it being billed as a co-headline tour, there is no doubt who the majority of the audience are hear to see. Coheed and Cambria open with 'The Dark Sentencer' from 2018's 'Vaxis: Act I' to which the crowd produce such a volume that I've not witnessed before in this venue. The bands fans are rabid, loyal warriors and their dedication to this cause is unique.
A good proportion of the set is lifted from the bands latest album, 'Vaxis – Act II', 'Beautiful Losers', 'Shoulders' and 'A Disappearing Act' all weaving their magic whilst the unique vocals of Claudio Sanchez deliver storytelling to a tee. The crowd's energy is unrivalled and the band feed off it in a mesmerising show of riffs and hair. Later in the set they do flick back to the older material that established them as an entity and close with the majestic 'The Running Free'. An evening of musical wizardry is brought to a close in style.