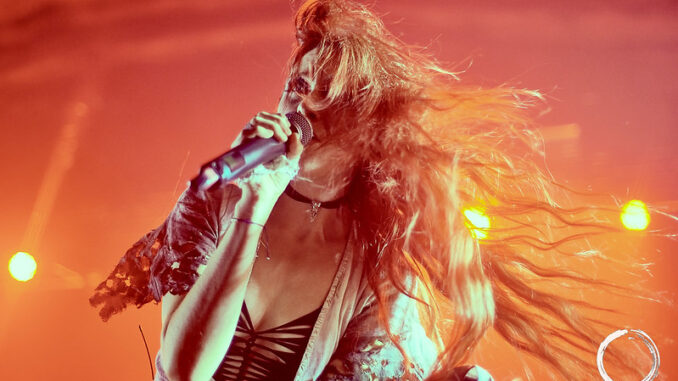 Live Review: Amorphis / Eluveitie - O2 Ritz, Manchester
24th November 2022
Support: Dark Tranquillity, Nailed to Obscurity
Words & Photos: Rich Price
A nail-biting sprint initiated the very second my 5 pm finish work and get to the gig alarm began ringing, followed by the fight through rush hour traffic, and a parking nightmare meant I was just in time to catch opening act Nailed to Obscurity. There's been a spate of ridiculously early starts in Manchester gigs lately, to really tax the most committed of us who absolutely must catch the opening acts.
I've seen Germany's Nailed to Obscurity before and having been impressed then I was looking forward to seeing them again. Unfortunately, they were significantly hampered by an incredibly thin venue sound without much power to it. They finished to moderate applause from the crowd which was only just starting to fill out. The combination of a ridiculously early start and poor sound meant that if they'd not been on the bill at all it would have made little to no difference, to be honest, they deserved better.
Next up were Gothenburg Death Metallers Dark Tranquillity who picked things up as the sound was much bigger and thicker sound, even if still muddy on the floor. Towards the end of the set, I found that the sound from the balconies was actually quite good. Playing quite a different set than normal they mixed it up with some songs they'd not played before. All in all, they put on a damn fine set, and despite it being best appreciated at elevation it drew plenty of applause, cheers and whistles from the now healthily sized crowd.
Taking to the stage at 8pm was Eluveitie who were incredibly good. A lot more powerful than when I've seen them before. To say they went over well with the crowd, who were taking full advantage of the bounciness of The Ritz's infamously sprung dance floor. After three years of absence, the crowd were absolutely loving this and so where the band, as evidenced by the huge applause.
Entertaining drum solos, fretboard gymnastics, and the crowd bouncing and punching the air with delight, and very surprisingly even a few crowd surfers punctuated the bagpipes and Hurdy Gurdy. They finished a fantastic set to some long, loud and endearing applause. They set a high bar for the headliners.
Opening with 'Northwards' Amorphis capitalised on the abundance of energy left for them and put on one hell of a show. I absolutely loved it, once it'd retreated from the odd choice of red and blue alternating strobes and up to the balcony for the good sound quality. A solid set of progressive Death metal with plenty of melodies.
A thinning crowd meant there wasn't quite as much energy as Eluveitie, but still really bloody good, and there was plenty of singing along with the excellent clean vocals, all rounded off nicely with some huge applause at the end of what had been after a faltering start an excellent night out. The crowd loved it and so did I.