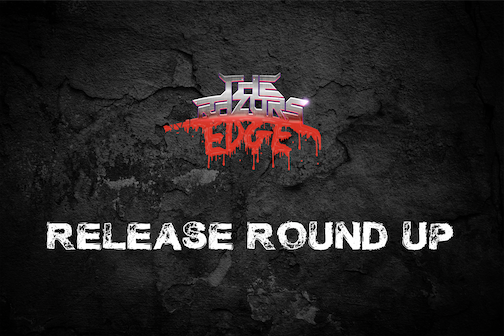 Release Round Up - January 20th, 2023
Every Friday there is a tidal wave of new music released unto the world. Whilst we try to cover as much as possible here at The Razor's Edge, it's not always possible to review everything. So each week on a Friday we'll round up some of the best new music available, some we've reviewed, some we haven't, but all worth checking out!
Theres a lot of new heavy music hitting the airwaves this week, everything from black metal, death metal, gothic metal, Stoner rock, doom, thrash metal and even some of your traditional heavy fuckin' metal!
Here's what we think you should check out today!
Black Star Riders return with a new line up and latest album 'Wrong Side of Paradise' on Earache Records.
"Wrong Side of Paradise is eleven rockin' tunes that do not look to reinvent the wheel, rather to move you in the places good rock should."
Read our full review here.
Cherry Red Records repackage Deicide's albums 'Once Upon The Cross' & 'Serpents of Light' into a new boxset offering.
"Cherry Red Records have scored another hit with this package, why not begin this new year with a nostalgia trip?"
Read our full review here.
Negative Vortex drop their death metal debut full length 'Tomb Absolute' on Sentient Ruin.
"blistering solos and vocals that keep us rooted to the ground all the while you've got the more ripping style of riffs going on around you."
Read our full review here.
Iowans Dryad unleash their blacked death metal fury in 'The Abyssal Plain' on Prosthetic Records.
"The record feels like a dream you can't escape from; one that only darkens the more you're subjected to it's chimes and evils."
Read our full review here.
Extreme metal Danes Deiquisitor release 'Apotheosis' via Extremely Rotten Productions / Night Shroud Records.
"Apotheosis is yet another example as to why Danish Death Metal has become so explosively successful within the last decade."
Read our full review here.
French masters of HEAVY Doctor Doom release 'A Shadow Called Danger' this week via Ripple Music.
"It's addictive, with a throbbing groove that pushes along nicely."
Read our full review here.
Katatonia return with their twelth studio album 'Sky Void of Stars', released via Napalm Records.
"Their ability to impart memorable hooks through their almost cinematic soundscapes is unrivalled"
Read our full review here.
Worm reissue 'Gloomlord' via 20 Buck Spin this week.
"unsettling yet grandiose funeral doom"
Read our full review here.
Punk royalty Angelic Upstarts release a collection of music 'The Singles - 1978 - 85' via Cherry Red Records this week.
"this compilation reminds you of the power and passion of the band, spear-heading a movement yet never once losing sight of where they were from and what they stood for."
Read our full review here.
Oak Pantheon release the awe-inspiring 'The Absence' this week.
"The mystique and intrigue with which 'The Absence' is shrouded in is magnified by the atmosphere that bubbles and flows throughout its mesmerising 40 minutes. "
Read our full review here.
Adventure Metal superstars Twilight Force drop opus 'At The Heart Of Wintervale' via Nuclear Blast.
"There is so much cheese on offer here that you will be digging crumbs of grated cheddar out of your ears after listening."
Read our full review here.
German black metal duo Imperium Dekadenz release 'Into Sorrow Evermore' on Napalm Records.
"a sumptuous musical banquet in which the listener is served up eight courses of the multiple flavours of the genre."
Read our full review here.
Nottingham metalcore outfit Those Once Loyal unleash EP 'Relentless Cycle' this week.
"combining crushing riffs and Matts huge vocals"
Read our full review here.
And thats just the tip of the iceberg! Other releases today we think you should check out include...
Rock / Hard Rock / Classic Rock
Big City - Sunwind Sails (Frontiers Music)
Heroes & Monsters - Heroes & Monsters (Frontiers Music)
Issa - Lights of Japan (Frontiers Music)
Leaflet - Something Beyond (Rockshots Records)
Ptolemea - Balanced Darkness (Self-released)
Seether - Disclaimer [Physical Release] (Craft Recordings)
Skald - Huldufolk (Universal)
Ten - Something Wicked This Way Comes (Frontiers Music)
The Devils - Live at Maximum Festival (Go Down Records)
Heavy Metal
Cthulhu Dreamt - Precursor (Self-released)
Dying Light - Shallow Grave (Self-released)
In Sonder - Quintessence [SINGLE] (Self-released)
Scarlatamusic - Skatepunk (Self-released)
Tension Rising - The Last Judgement (Self-released)
Ulth - Umidus Lacer Tecte Horrificus [EP] (Herbivorous Records)
Death Metal / Grindcore
Apokatastasis - The Consecratory Secretion (Hessian Firm)
Ashen Tomb - Ashen Tomb [EP] (Personal Records)
Celestial Scourge - Dimensions Unfurled [EP] (Time To Kill Records)
Celestial Wizard - Winds of the Cosmos (Scarlet Records)
Fatalismo - Dominate to Exterminate (Self-released)
Olēka - Driftwood [EP] (WormholeDeath Records)
Sarah Halter - The Doom That Binds Us (Sparrow Heart Records)
Skarthia - Legacy (Self-released)
Thaumaturgy - Tenebrous Oblations (Adirondack Black Mass)
Stoner Rock / Doom / Sludge / Psych
Gypsy Chief Goliath / End Of Age - Turned to Stone [SPLIT] (Ripple Music)
Ornamentos del Miedo - Frío (Darkwoods)
Pander - Break the Oath (Argonauta Records)
Tidal Wave - The Lord Knows (Ripple Music)
Tribunal - The Weight Of Remembrance (20 Buck Spin)
Progressive Rock / Metal
Mindless Hope - Mental Truancy (Sliptrick Records)
Riverside - ID.Entity (InsideOutMusic)
Varjo-Orkesteri - Seremonia (Inverse Records)
And the rest...
Cløudy Skies - Changes (Argonauta Records) [Post-Metal]
Dead Low - Not For Sale [EP] (Audio Epidemic Records) [Punk]
The Murder Capital - Gigi's Recovery (Human Season) [Post-Punk]
Uburen - Usurp The Throne (Dusktone) [Black Metal]