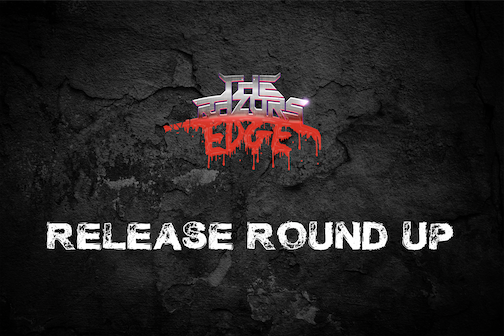 Release Round Up - March 10th, 2023
Every Friday there is a tidal wave of new music released unto the world. Whilst we try to cover as much as possible here at The Razor's Edge, it's not always possible to review everything. So each week on a Friday we'll round up some of the best new music available, some we've reviewed, some we haven't, but all worth checking out!
Theres a lot of new heavy music hitting the airwaves this week, everything from black metal, death metal, gothic metal, Stoner rock, doom, thrash metal and even some of your traditional heavy fuckin' metal!
Here's what we think you should check out today!
Suicide Silence release their eagerly awaited seventh album 'Remember…You Must Die' via Century Media.
"the band has surpassed all expectations and have created an almost perfect deathcore record since the genre's conception."
Read our full review here.
Costa Rican death metallers Astriferous release 'Pulsations From the Black Orb' via Me Saco Un Ojo.
"a cacophonous and mighty record that will suck you into its vortex"
Read our full review here.
Brutal Indonesians Depraved Murder release 'Unethical Terrestrial Collapse' via Comatose Music.
"a devastating sounding slab of an album"
Read our full review here.
Periphery unleash 'Periphery V: Djent Is Not A Genre' on an unsuspecting public via 3DOT Recordings.
"hulking drum fills and guitar riffs that encompass the entire album."
Read our full review here.
Roadrunner Records look back at their 25th Anniversary celebrations with the vinyl release 'Roadrunner United' live show.
"a perfect look back to a time when life was simpler, we had fewer worries and we could bang our heads and drink for days without ever fearing a hangover."
Read our full review here.
In The Act of Violence release a slab of Brutal Slamming Deathcore on 'Parasitic Populace'.
"intense instrumentals combined with the violent vocals provide some brutal songs"
Read our full review here.
The Swedish death metal assault of Bastard Grave returns with 'Vortex of Disgust' on Pulverised Records.
"a much filthier and decrepit form of death metal than your Cannibal Corpse-inspired variants"
Read our full review here.
And thats just the tip of the iceberg! Other releases today we think you should check out include...
Rock / Hard Rock / Classic Rock
Demons Down - I Stand (Frontiers Music)
Gunter Werno's Anima One - Anima One (Frontiers Music)
Manchester Orchestra - The Valley of Vision (Loma Vista Recordings)
Nearly Spent - Drowning (Affiant Records)
Otherwise - Gawdzillionaire (Mascot records)
Seventh Crystal - Wonderland (Frontiers Music)
Shana Cleveland - Manzanita (Hardly Act Records)
Starcrazy - Another Day, Another Squalor... [EP] (Self-released)
Stonetrip - Run Free (Golden Robert Records)
The Banishment - Machine and Bone (Frontiers Music)
The Lancasters - Standard Family Size (Retro Vox Records)
Touch The Buffalo - In Six Heads About It (Self-released)
Heavy Metal
Kodama - Control [Single] (Self-released)
Odinfist - Remade In Steel (Self-released)
Black Metal
As Light Dies - The Laniakea Architecture, Volume II (Darkwoods)
Asphagor - Pyrogenesis (MDD Records)
Luteøks - Barely True Norwegian Black Metal (Nordic Mission)
Nakkiga/Arde - Split (Self-released)
Qwalen - Syvä Hiljaisuus (Time To Kill Records)
Unfelled - Pall of Endless Perdition (Season of Mist)
Death Metal
Bloodjob - Metastasis [EP] (Lethal Scissor Records)
God Disease - Apocalyptic Doom (Gruesome Records)
Gorgonchrist - Fish In A Mountain (Self-released)
Gorod - The Orb (Self-released)
Ignominy - Imminent Collapse (Transcending Obscurity Records)
Sacrificium - Oblivion (Nordic Mission)
The Human Race Is Filth - Cognitive Dissonance (Self-released)
Weight of Emptiness - Withered Paradogma (Sliptrick Records)
Deathcore
It's Always Sunny In Tijuana - Say Nothing [EP] (Self-released)
Skybaus - EP II (Total Deathcore)
Doom / Stoner Rock / Sludge / Psych
Duel - Live at Hellfest (Heavy Psych Sounds)
Håndgemeng - Ultraritual (Ripple Music)
HolyRoller - Swimming Witches (Self-released)
Isole - Anesidora (Hammerheart Records)
Lathebra - Angels' Twilight Odes (My Kingdom Music)
Rezn - Solace (Self-released)
Saint Cyr - The Long Road (Self-released)
The Atomic Bitchwax - Live At Freak Valley Fest (Heavy Psych Sounds)
Witchrot - Live In The Hammer (Self-released)
Power Metal
Frozen Crown - Call Of The North (Scarlet Records)
Nanowar of Steel - Dislike To False Metal (Napalm Records
Punk
Flogging Molly - Til The Anarchy's Restored [EP] (Rise Records)
Snayx - Weaponized Youth: Part 1 [EP] (Self-released)
Thrash Metal
Exelerate - Exelerate (From The Vaults)
Mass Crysis - Imposing Truck (The Goatmancer Records)
And the rest...
Bl'ast - Manic Ride [REISSUE] (Southern Lord) [Hardcore]
Dirge - Dirge (Immersive Sounds) [Post-Metal]
Giant Brain - Grade A Gray Day (Small Stone Recordings) [Prog]
Ingraves - Human Abyss (Self-released) [Metalcore]
Negative Prayer - Negative Prayer [7 inch] (Carbonized/Seed Of Doom Records) [Crust]
Story of the Year - Tear Me To Pieces (Sharptone Records) [Post-Hardcore]