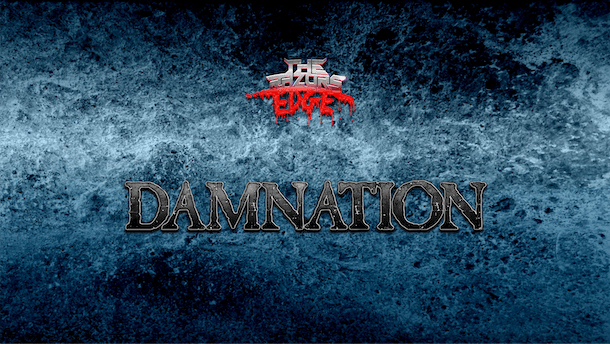 Damnation Festival: A Fan's Retrospective : Part 2
by Dan Barnes

As the year draws to its close and those long summer days at Bloodstock feel like eons ago; as the Halloween decorations are packed up and Christmas seems like forever away, there is one final light in the rapidly darkening future to look forward to: Damnation Festival. The year's last event in the extreme music calendar and the perfect way to end the festival season with an Autumnal trip over to Leeds.
Yesterday, in part 1 of this feature we looked at the beginnings of the festival through to 2010. Today we start off back in Leeds in 2011.
By 2011 the Damnation brand was back to firing on all cylinders. Gone was the Deathfest and the financial distraction it caused, leaving the team to focus on one single event, now beginning to establish itself on the Heavy Metal calendar.
From 2010 the scheduling of Damnation became much more consistent with the event taking place on the first Saturday in November. So, depending on when that was the festival was a moveable feast between the earliest date of November the 1st and the latest being the 7th. This way we could all plan well ahead and book those rooms for the following year.
As with all other years, the bill was a wide-ranging affair, from the neo-Prog of main-man Devin Townsend, who provided some light relief after the juggernaut of Godflesh, to the coup of having Ulver headline the second stage.
An aviation accident prevented Decapitated from playing, but having crust-punks Doom, Blackjazz aficionados Shining and Swedish Metal machine Grand Magus on the bill, the missing Poles' absence was cushioned.
Main Stage: THE DEVIN TOWNSEND PROJECT / Godflesh / Grand Magus / Evile / Turisas / Illuminatus / Xerath
Terrorizer Stage: ULVER / Doom / Chthonic / Dragged into Sunlight / Shining / A Man Called Catten / Cerebral Bore
Zero Tolerance Stage: GOD IS AN ASTRONAUT / Amplifier / Altar of Plagues / Talons / Astrohenge / Conan / A Forest of Stars / Humanfly
2009 alumni, Electric Wizard took top spot for 2012's show, with support from My Dying Bride and Primordial and with Pig Destroyer topping the second stage and Amenra taking the high billing on the third stage, the bar was raised again and the rest of the undercard stepped up.
There was a distinct darkness to the second stage, with the likes of Belphegor, Aura Noir and Vreid, along with Heritage Heroes, Winterfylleth, transforming the arena into a Dantean circle of Hell that even the headliners and Extreme Noise Terror's ferocious grind could not dispel.
For those who sought a little more subtly in their musical abuse, the lower stage hosted some of the most promising Post-Metal acts the time had to offer.
Main Stage: ELECTRIC WIZARD / My Dying Bride / Primordial / Gama Bomb / Textures / Devil Sold His Soul / Hawk Eyes
Terrorizer Stage: PIG DESTROYER / Belphegor / Aura Noir / Vreid / Extreme Noise Terror / Winterfylleth / Hang the Bastard / The Atrocity Exhibit
Eyesore Merch Stage: AMENRA / Maybeshewill / 40 Watt Sun / Bossk / Blacklisters / Wodensthrone / Ravens Creed
When Carcass headlined in 2008 they did so as a reunited nostalgia act, having no new product to promote, whereas their appearance in 2013 coincided with the release of a new record, the superb Surgical Steel. In the intervening five years, Carcass had re-established themselves on the international scene with regular appearances on European bills and were about to begin a stint as Amon Amarth's special guests on the Defenders of the Faith tour.
Those years of touring had honed Carcass back into the razor-sharp assault vehicle that stormed the Damnation stage in 2013, laying waste to all who came before them on that chilly November day, which is a big call in retrospect.
As with 2008 Carcass were not given an easy ride by the organisers of the show. Katatonia had been on tour with Paradise Lost and were playing Viva Emptiness in its entirety and God Seed were making only their second appearance on British soil after the supporting slot with Cradle of Filth the previous December.
Twilight of the Gods had been a rarely seen Bathory tribute until the release of Fire on the Mountain and Alan and co opened the stage with one of the most Metal sets of any Festival. Ever.
Damnation had expanded into a four stage show for the first time in 2013 with each of the three smaller stages hosting a specific genre. The smallest seeing Conan's relentless rise in popularity topping a sludge-heavy line up and the new stage saw the likes of Negura Bunget and Vallenfyre appearing before Greek masters of extremity, Rotting Christ, delivered the killing blow.
As Damnation is the only festival which invests heavily in the Post-Metal genre it was only a matter of time before they booked Cult of Luna, and their appearance as second stage headliner, above The Ocean, Rosetta and more, solidified Damnation's position as the UK's premier extreme music showcase.
With so many quality bands on offer the inevitable collision saw Rotting and Luna playing at the same time, so switching between stages became a must.
Main Stage: CARCASS / Katatonia / God Seed / SSS / Shining / Twilight of the Gods
Eyesore Merch Stage: CULT OF LUNA / Crippled Black Phoenix / The Ocean / Rosetta / Year of No Light / Tides from Nebula / Dirge
Terrorizer Stage: ROTTING CHRIST / Vallenfyre / Negura Bunget / Dyscarnate / Voices / The Afternoon Gentlemen / Diamanthian
Electric Amphetamine Stage: CONAN / Moss / Serpent Venom / Palehorse / Slabbdragger / Black Magician / Iron Witch
If 2008 was considered an exercise in excess, then the 2014 event, and tenth anniversary show, took indulgence to the next level. Under any normal circumstance Cannibal Corpse would have sat at the top of any Damnation line-up but the Floridan Death Machine were relegated to headlining the second stage as Coventry's war masters, Bolt Thrower, made a rare UK appearance as the festival's main draw.
Joining these two titans of Death were a supporting cast of Saint Vitus, Orange Goblin, Anaal Nathrakh, Ahab and more. The issues of 2008 were back again as the undoubted pull of such a stellar programme meant the venue was packed to the rafters and navigating around became a chore.
Sadly, in the week running up to the show, October File pulled out but when looking at the remainder of the line-up it seems churlish to make such a complaint. From start to finish this was the best, on-paper, festival from the Damnation team but, as with 2008, putting together such a big draw brings with it a series of different issues.
Main Stage: BOLT THROWER / Saint Vitus / Orange Goblin / Raging Speedhorn / Stampin' Ground / Dyscanate
Terrorizer Stage: CANNIBAL CORPSE / Anaal Nathrakh / Revocation / Winterfylleth / Aeon / Xerath / Amputated
PHD Stage: AHAB / Monarch! / Solstafir / Hark / Black Moth / Atlantic / Corrupt Moral Altar
Eyesore Merch Stage: FEN / Wodensthrone / A Forest of Stars / Code / Falloch / Obsidian Kingdom / Bast
The excess of 2014 was addressed a year later as Damnation capped attendance to a more manageable level. The reduction in attendance, however, did not adversely affect the quality of the line up with a more sedate, though no less in-your-face bill being put together.
Godfathers of the Gothenburg scene, At the Gates, took top spot as, like Carcass from two years before, the Swedes had ceased to be their own tribute act of the late noughties and had released the At War with Reality album to demonstrate their continued relevance to the scene.
Solstifir's undoubted success on the third stage in 2014 saw them bumped up to a main stage slot and a packed refectory saw a consummate performance worthy of the trust shown by the festival organisers.
A reformed Altar of Plagues returned to the scene of their 2011 triumph and excelled amid a stage line-up that included Damnation favourites Maybeshewill and AmenRa. But it was headliners Mono, the Japanese post-rock instrumentalists, who were simultaneously mesmerising and head-scratching in equal measure.
It was good to see Primordial being given the headline slot on the second stage, atop of bill that was both punishingly heavy and intricately complex. The Irishmen delivered the kind of set they now regularly bring across the Irish Sea after too long away from UK stages, filled with passion and intensity, with Nemtheanga living out every word he sang.
Although not as overly heavy as the previous year, Damnation 2015 was a quite assassin of a festival, a smiling killer hiding its diabolical intention behind a veil of reasonable respectability.
Main Stage: AT THE GATES / High On Fire / Solstifir / The Ocean / Oathbreaker / Savage Messiah
Terrorizer Stage: PRIMORDIAL / Asphyx / Keep of Kalessin / Vreid / Voices / Wiegedood / The King is Bling
Eyesore Merch Stage: MONO / AmenRa / Altar of Plagues / Maybeshewill / Crowns / Talons / Tacoma Narrows Bridge Disaster
Electric Amphetamine Stage: 40 WATT SUN / The Wounded Kings / Witchsorrow / Ghold / Sea Bastard / Ohhms / Undersmile
Looking at the lowest parts of the Damnation line up for 2016 it is pleasing to see the inclusion of names that would go on to create some ripples of their own. Svalbard's 2020 album, When I Die, Will I Get Better? is a tremendous platter that would have seen them on the Ronnie James Dio stage at this year's Bloodstock, whereas Venom Prison have been killing it since 2015 with the release of their two EPs.
Add Conjurer and Employed to Serve into the mix and Damnation show they are about more than filling slots and are focused on developing new talent.
Enslaved celebrated their twenty-fifth year with a second stage headliner and things got very dark and foreboding down in the Stagey McStageface stage with Dread Sovereign and Infested.
Up in the refectory the Damnation team had put together a novel idea of headlining: using three bands and giving each an hour in which to play. Although Electric Wizard closed the show, all three held co-headline status.
Wizard played it laid back and matched their 2012 set but Abbath's show seemed unfocused and suffered for it.
Of the three billed headliners it was Cult of Luna with Julie Christmas, performing the Mariner album in its entirety, one of only five full performances from the band, that was not only the highlight of 2016 but is one of the finest performances to grace a Damnation stage ever. It had power, it had subtlety, it had atmosphere and was entirely captivating from beginning to end.
Main Stage: ELECTRIC WIZARD / ABBATH / CULT OF LUNA with JULIE CHRISTMAS / Oceans of Slumber / Hang the Bastard / Hark
Terrorizer Stage: ENSLAVED / Akercocke / Ne Obliviscaris / Venom Prison / Mithras / Svalbard / Attan
Eyesore Merch Stage: UFOMAMMUT / Black Tusk / Bossk / Sinistro / Erlen Meyer / Conjurer / Dialects
Stagey McStageface Stage: INGESTED / Dread Sovereign / The Infernal Sea / Employed to Serve / Darkher / Gets Worse / Kroh
The success of the triple headliner format played right into Damnation's hands for their 2017 edition as it allowed Nick Holmes to do a double-shift fronting both Paradise Lost and death metal supergroup, Bloodbath. Sandwiched between Nick's appearances were German thrash masters, Sodom who made something of an increasingly rare visit to British shores.
Elsewhere, Agoraphobic Nosebleed, Dying Fetus and Nails turned the second stage into a writhing mass of bodies and Grave Pleasures has the dubious honour of headlining the small stage at the same time as Bloodbath trod the boards upstairs. From their incarnation as Beastmilk to the most recent album, Mother Blood, Grave Pleasures repaid the faith of those missing Nick and co with a set of gothic, post-punk rock and roll.
Main Stage: BLOODBATH / SODOM / PARADISE LOST / Warning / Myrkur / Pallbearer
Terrorizer Stage: AGORAPHOBIC NOSEBLEED / Dying Fetus / Nails / Dragged into Sunlight / Vallenfyre / Wiegedood / Disentomb
Eyesore Merch Stage: NORDIC GIANTS / Leprous / Agent Franco / Big Business / Psychedelic Withcraft / PG Lost / Body Hound
Tone MGMT Stage: GRAVE PLEASURES / Psycropitc / The Great Dischord / Mutation / Beyond Creation / Leng Tch'e / Wren
2018 had more of a low-key feeling about. Like it would be one of those overlooked shows that hundreds of people would claim to have been to. Napalm Death's headline status had been assured for many a long year in light of their positioning as bone fide legends and one of the most reliable acts in the extreme music genre.
There was a real retro feel about the bill, too. Having Entombed AD, Vader and Cancer brought a sense of the old-school extremity to the proceedings, with the likes of Anaal Nathrakh, Fukpig and Insanity Alert reminding the younger attendees of the debt owed to those hardened road-dog acts.
Main Stage: NAPALM DEATH / Ihsahn / Entomed AD / Anaal Nathrakh / Ne Obliviscaris / Cancer
Tone MGMT Stage: VADER / Batushka / Celeste / Saor / Lik / Fukpig / Leeched
Cult Never Dies Stage: GHOST BATH / Mourning Beloveth / A Forest of Stars / Bong / Insanity Alert / Mol / Hundred-Year-Old Man
Eyesore Merch Stage: THE OCEAN / Monuments / Arabrot / Rosetta / Ohhms / Caligula's Horse / Vola
Prior to the headliner announcement of 2019, the fifteenth iteration, Damnation revealed they had booked the biggest name yet for the show. Initially, Opeth might have seemed something of a tame way to close out the day, their Seventies-inspired direction a world away from those early progressive death metal records. But one thing Opeth have always maintained is the intensity of their performance and regardless of how the band may have moved away from the sound of Orchid, et al. that is something that cannot ever be taken away from them.
Ironically, even though Opeth played a set of songs spread across their post-millennial releases, they didn't think to visit their Damnation album!
The festival pulled off a major coup in the booking of Norwegian legends, Mayhem and, along with former Gorgoroth and God Seed front-man, Gaahl, brought a huge chunk of Black Metal history to Leeds.
Venom Prison demonstrated their inexorable rise through the ranks of the extreme UK music scene with their headlining of the second stage, impressive when you look at the band's rise up the bill over the years.
Elsewhere, stalwarts of the festival were present. The likes of Raging Speedhorn, Primordial and Voices are always a welcome addition to the bill and are sure to always bring their A game to the proceedings.
Main Stage: OPETH / Mayhem / Alcest / Primordial / MGLA / Raging Speedhorn
Tone MGMT Stage: VENOM PRISON / Gaahls Wyrd / Birds in a Row / Inter Arma / Blood Red Throne / Carnation / Godeater
Cult Never Dies Stage: IMPERIAL TRIUMPHANT / Crowhurst / Monk / Voices / Earth Ship / Dawn Ray'd / The Infernal Sea
Eyesore Merch Stage: BIG BUSINESS / The Vintage Caravan / A Pale Horse Named Death / Jo Quail / Lord Dying / Wheel / Alunah
The early 2020 announcements showed Damnation would be hosting a heap of exclusive performances on the 7th November, not least a set from Richmond, VA grinders, Pig Destroyer which must have been worth the ticket price alone.
Sadly, global events took over and, like all other shows, became consigned to the 'If Only' file.
2021 would bounce back bigger and stronger. 'A Night of Salvation' a gift to the fans from the organisers with some very exclusive performances before the main event on Saturday!
With a new venue waiting in the wings for 2022, Damnation Festival continues to go from strength to strength!