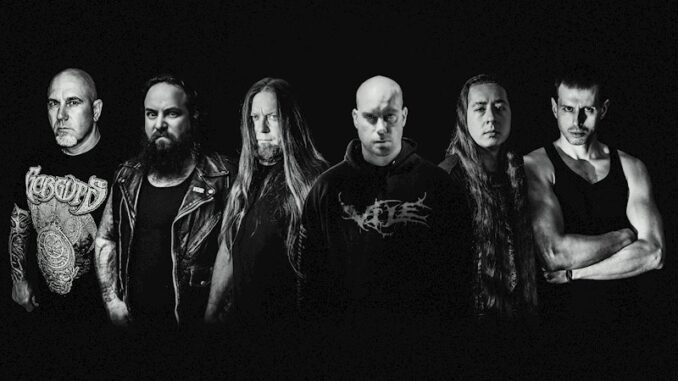 Album Review: Deeds of Flesh - Nucleus
Reviewed by Richard Oliver
Nucleus is the ninth album from Californian death metallers Deeds Of Flesh. It is also a posthumous album for founding member, guitarist and vocalist Erik Lindmark who sadly passed away in 2018. Luckily the album had been written and mostly recorded prior to Erik's death and it has been completed with the assistance of former vocalist Jacoby Kingston who came out of retirement to provide vocals and lyrics. Joining the band on Nucleus is a who's who of death metal with guest spots from Luc Lemay (Gorguts), George "Corpsegrinder" Fischer (Cannibal Corpse), John Gallagher (Dying Fetus) and Frank Mullen (Suffocation) amongst others.
What we get musically from Nucleus is crushing contemporary death metal that straddles the line between brutality and technicality. It is full of building-flattening riffs, drumming with the intensity of artillery rounds as well as some slick melodically twinged lead guitar playing. There are plenty of twists and turns with moments of gut wrenching brutality switching to technical flourishes. The guest vocalists all bring their own identities on their respective songs and help bring to life the science fiction concept of Nucleus. There is also a cinematic feel to the album with symphonic moments littered throughout that give the album an epic scale. Despite the epic feel this album still takes your head off with songs such as Ethereal Ancestors, Alyen Scourge and the title track.
Like a lot of this style of death metal there is a lot going on and some of it just isn't too engaging or memorable. Technical death metal can be very much style over substance and there are certainly moments of that here but then when it starts getting tiresome you get moments like Terror or the title track that cave your head in. Whilst not a flawless release this is still an enjoyable one and although an album born out of tragedy it is very much a fitting epitaph for the legacy of Erik Lindmark.