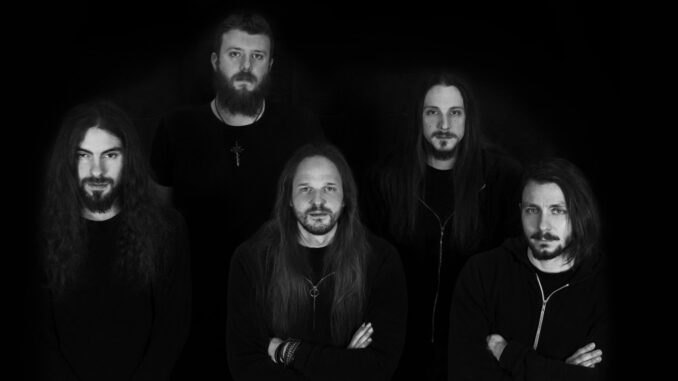 Album Review: Ghostheart Nebula - Ascension
Reviewed by Richard Oliver
Ascension is the debut album from Italian five piece Ghostheart Nebula. It follows an E.P. Reveries that was released in 2018 and a single Apathetic Lacrymae in 2020. It is also the first full release from the new line up of the band with guitarist Aron Corti and drummer Panta Leo both joining the band in 2020.
One word that could be used to describe the music of Ghostheart Nebula is atmospheric. Their melodic doom death metal style is positively overflowing with gloomy atmosphere and it is just the sort of music I find myself continually drawn to like a moth to a flame. This is a far less riff driven style of death doom metal with the focus being on soundscapes with both the guitars and keyboards giving us a wall of sound effect. It is a wall of sound with its foundations built upon melancholy, emotion and darkness with feelings of happiness and joy completely absent throughout this album. The vocals by Maurizio Caverzan convey the despair and anguish of the music being a mix of guttural growls and pained screams.
There are moments of clean vocals provided by guest vocalists Amelia Emmanueli of Sojourner and Gogo Melone of Aeonian Sorrow and their guest parts are suitably atmospheric and moving. As with a lot of these bands, the songs themselves are quite lengthy and weighty pieces of music with the shortest song being just over six and a half minutes but thankfully the music and compositions deserve the length and breadth they are given and the songs never feel overstretched or overlong. This is definitely an album that deserves the time and attention to absorb and let the darkness wash over you. Opening song Mira has very much a funeral doom vibe to it and makes for a superbly atmospheric opener whilst Chrysalis is a more compact song and has comparisons with fellow doom merchants such as Swallow The Sun. The three part title track with closes the album and takes up its second half is colossal in scale with the aforementioned guest vocals by Gogo Melone giving the first part an even greater emotional gravitas whilst the second part is full of woe and a piece of crushing yet melodic death doom before the third part reverts to the funeral doom vibes that opened the album with waves of atmospheric and sullen soundscapes bringing the album to a close.
Ascension is a fantastic debut album for Ghostheart Nebula. If this atmospheric and melancholic style of metal is your bag then this album ticks all the boxes. Ghostheart Nebula don't do anything different or unique within this niche in metal but they just play fantastically and have crafted some superb pieces of music that are haunting, moving and majestic. If you are looking for the soundtrack to the winter months and cold weather rolling in Ghostheart Nebula have certainly provided that for you.