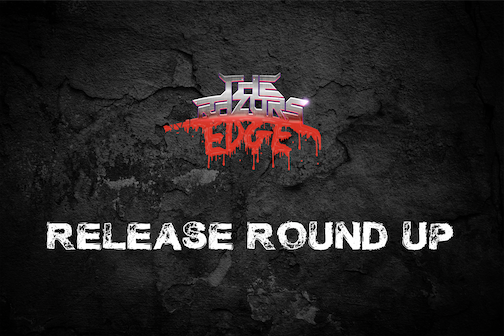 Release Round Up - September 17th
Every Friday there is a tidal wave of new music released unto the world. Whilst we try to cover as much as possible here at The Razor's Edge, it's not always possible to review everything. So each week on a Friday we'll round up some of the best new music available, some we've reviewed, some we haven't, but all worth checking out!
Theres a lot of new heavy music hitting the airwaves this week, everything from black metal, death metal, gothic metal, Stoner rock, doom, thrash metal and even some of your traditional heavy fuckin' metal!
Here's what we think you should check out today!
Gods of grind Carcass return with new album 'Torn Arteries' this week on Nuclear Blast Records.
"You don't need a science degree to acknowledge the sheer brutality that emits from Jeff Walker. His diseased gravel coated growl hits lower than an underhand boxer."
Read our review here.
Upstarts of the British metal scene Employed to Serve drop new album 'Conquering' on Friday via Spinefarm Records.
"Employed to Serve are surging ahead by developing their sound and songwriting... Walk the path with them and enjoy the fruits of their labour."
Read our review here.
The future of heavy metal hails from New Zealand and Alien Weaponry are back with their second album 'Tangaroa' on Napalm Records.
"This release will get the metal community talking again and they will break down more barriers and get moshpits swirling across the globe."
Read our review here.
Welsh rockers Florence Black finally release their debut album this week 'Weight Of The World'.
"From the off there is no holding back you cannot do anything but be fully engulfed in the sound."
Read our full review here.
Having parted ways with Delain earlier this year, Charlotte Wessels returns this week with new solo album 'Tales From Six Feet Under' on Napalm Records.
"Passionate, emotional and full of expression, 'Tales from Six Feet Under' is an uplifting and impressive release."
Read our full review here.
A decade and a half since their last contagion, Leeds' favourite undead quartet Send More Paramedics return with 'The Final Feast'.
"The Final Feast clearly shows there's plenty of life in this cadaver yet."
Read our full review here.
Finnish melodic death metallers Insomnium drop a new E.P. this week. 'Argent Moon' gets it's release via Century Media Records.
"Argent Moon demonstrates the more delicate elements of the band whilst retaining that heaviness that has always underpinned their music."
Read our full review here.
Floridian hardcore outfit Thunderclap launch a 7 inch single 'Morkkis' this week via Ashtray Monument.
"Heavy and melodic with the slightest hint of the punk roots of its creators."
Read our full review here.
French power-trio Iron Lizards release their debut album 'Hungry For Action' via The Sign Records.
"Put this on at a house party and you'll be replacing the furniture and crockery. Have Iron Lizards to your wedding and they'd probably run off with the bride, such is the filth they generate. "
Read our full review here.
Brazilian death metal outfit The Troops of Doom return with new E.P. 'The Absence Of Light'.
"It's savage, with delicious groove-ridden breakdowns."
Read our review here.
Hardcore heavyweights Vengeful187 drop a bombshell with 'War Neurosis' this week on CDN Records.
"This is heavy, heavy hardcore, full of beatdowns and slow, deliberate chugging guitars."
Read our full review here.
Italian doom quintet Ghostheart Nebula release new album 'Ascension' this week.
"Their melodic doom death metal style is positively overflowing with gloomy atmosphere."
Read our review here.
And thats just the tip of the iceberg! Other releases today we think you should check out include...
Rock / Hard Rock / Classic Rock
Hellz Abyss - Pottymouth [EP] (Self-released)
Bastette - Exposed [EP] (RPM Records)
Blitz - Take No prisoners [Live] (KSM Records &  Entertainment)
King Zebra - Survivors (Crusader Records)
NarreN - Aura (WormholeDeath Records)
Planet Fetale - The Cycle Repeats (Self-released)
Night Thieves - Spiral [EP] (Self-released)
Dead Reynolds - Breathe With Strangers (Self-released)
Don Broco - Amazing Things (Sharptone Records)

Heavy Metal
Thundermaker - The Road (Sliptrick Records)
Heirs Of Isildur - Heirs Of Isildur vs Tales From Nocturnia (Insymmetry Creations LLC)
Catalysis - Relicta [EP] (Self-released)
Manfrea - Noire (Self-released)
Between The Planets - Parallel World (Self Released)
Oversense - Egomania (Dr. Music Records)
Spiritbox - Eternal Blue (Rise Records)
The Raven Age - Exile (Ex1 Records)
Cromagnum - Born Free (EP) (King Metal Records)
Brainstorm - Wall of Skulls (AFM Records)

Death Metal
Anomoly - Planet Storm (Self-released)
Criminal - Sacrificio (Metal Blade Records)
Existentia - Calculating Failure (Self-released)
Vulvodynia - Praenuntius Infiniti (Unique Leader)
Shadecrown - Solitarian (Inverse Records)
Knowledge Through Suffering - Concealment (Brucia Records)
Cogas - Unconscious Sons of the Reptile God (Self-released)
Black Metal
Argesh - Excommunica (Nero Corvino Records)
Teitan - Vákuum (Zwaerdgevegt Records)
Aldofrea - In Deepest Isolation (Self-released)
Saturnian Mist - Shamatanic (Hammerheart Records)
Stoner Rock / Doom / Sludge
Shadecrown - Solitarian (Inverse Records)
Ghostheart Nebula - Ascension (Black Lion Records)
Bogwife - A Passage Divine (Majestic Mountain Records)
Goatfather - Monster Truck (Argonauta Records)
Holy Death Trio - Introducing... (Ripple Music)
Without God - Siberian Tunes: Purple Clouds (Solitude Productions)
Kadabra - Ultra (Heavy Psych Sounds)
And the rest...
Dickless Tracy - Grave New World (Monsterbilly Records) [Grindcore]
The Blue Prison - The Blue Prison (Metal Assault Records) [Instrumental prog rock/metal]
Spoiler - The Nihilist (Single) (Self-released) [Metalcore/Hardcore]
Exit_International - Black Junk [Reissue] (Self-released) [Noise/Rock]
Freakshow - Freakshow (Self-released) [Nu-Metal]
Real Friends - Torn In Two (Pure Noise Records) [Pop Punk]
Graceful - Demiurgia (Vlad Productions) [Post-Metal]
Sofa - Source Crossfire (Source Crossfire) [Post-Punk]
Phil Stiles - The Anchorhold (Trepanation) [Post-Rock]
Apostolica - Haeretica Ecclesia (Scarlet Records) [Power Metal]
Rage - Resurrection Day (Steamhammer / SPV) [Power Metal]
Swelling Repulsion - The Severed Path (Spirit Coffin Publishing) [Progressive Death Metal]
Mono - Pilgrimage Of The Soul (Pelagic Records) [Progressive rock/Metal]
Lurk - Around The Sun (Pure Noise Records) [Punk]
Leaves' Eyes - The Last Viking [Midsummer Edition] (AFM Records) [Symphonic Metal]
Whyzdom - Of Wonders and Wars (Scarlet Records) [Symphonic Metal]
Various Artists - C Squared Under Music Special (C Squared Music)