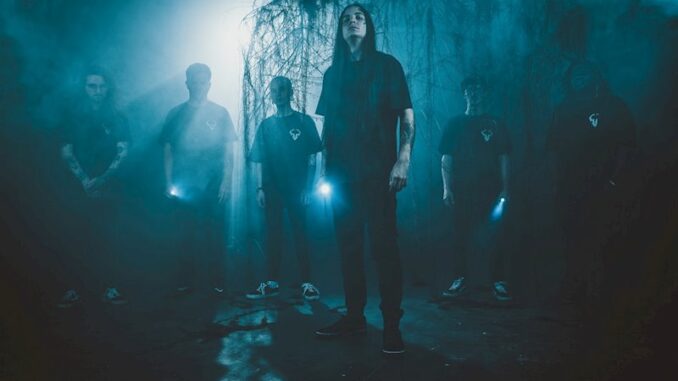 Album Review: Vulvodynia – Praenuntius Infiniti
Reviewed by CJ Claesson
"Vulvodynia is a chronic pain syndrome that affects the vulvar area and occurs without an identifiable cause". Huh, I never knew that!
What I do know is that South Africa's foremost brutal death metal export with the same name, is back with an album titled 'Praenuntius Infiniti' which will slam you into another dimension.
Since their formation in 2014 they have gained a steady following among not only the brutal metal crowd, but also within hardcore / beatdown circles. With three full-length albums, three EP's and a handful of split releases in the bag, each step in their journey seems to have been carefully calculated - which surely nursed their success. That, and of course relentless touring. From the start, Vulvodynia had a strong foundation in outright slamming death metal - however, the technical qualities made it clear that the "slam box" was a bit of a tight squeeze. The musical diversity of the band has been explored on the debut album 'Cognizant Castination' (2014), 'Finis Omnium Ignorantiam' (2015) and not least 'Mob Justice' (2019) by meticulously merging slam with technical death metal and heavy hardcore / beatdown. It's also made apparent by the many guest performances they have had throughout the years, featuring members from heavy-duty outfits like; Ingested, Oceano, Clawhammer, The Black Dahlia Murder, Kraanium, Malevolence etc. Especially the last mention tightened the established hardcore / slam knot.
Two pandemic-ridden years have passed since their last release 'Mob Justice' and Vulvodynia certainly didn't waste any lockdown days. Completing the tale of inter-dimensional debauchery established on 'Finis Omnium Ignorantiam', Vulvodyina displays further sonic evolution on 'Praenuntius Infiniti'. The brutal death metal backbone is certainly intact but the incorporation of melo- and technical death metal makes this their most diverse and captivating release to date.
The album starts off with a haunting intro accompanied by somber acoustic guitar, and immediately after you're caught in a whirlpool of intergalactic death metal. Right off the bat, there is a sense of elevation and a tangible evolution of the sound. Third track 'Eternal Wasteland of Galaxies' includes one of the most mesmerizing guitar hooks I've heard in a long time. Even the solo stands out as the guitar sound travels between distorted to clean. The attention to detail is of astronomical proportions and the more you listen to each instrument the more you discover. Even the background arrangements, adds another dimension to the songs - the "space sounds" (which I believe is the academic term) in particular. Vocalist Duncan Bentley showcases an impressive vocal range from the deepest depths of inhumane gutturals to ear-piercing highs and melodic elegance. The captivating quality of the record is lifted by the rapid changes of emotions and continuous genre-bending. Need proof? 'Banquet Of Enigmatic Horrors II: Agony' featuring Archspire's Oliver Rae Aleron is the answer. Shotgun vocals are seamlessly mixed with heavy melodic outer space death metal and on paper it shouldn't work. But it does. It really does.
Slamming breakdowns aside, slow and majestic is a very tasteful color on Vulvodyina and the mix with alien warfare turmoil as presented on 'The Seven Judges' and 'Forging The Deity Crusher' creates a comfortable chaos. Of course Vulvodynia wouldn't want to let any slam die-hards down and with songs like 'Ravenous Revolution' and 'Funeral Ov The Gods' they certainly don't. The latter has arguably the heaviest breakdown on the record. It's simply phenomenal.
To top it all off - Vulvodyina does something I personally love - they tie in the outro with the intro! After listening to the album multiple times, that detail enhances the dramaturgical quality of the record to eleven. The South African slammers have produced an airtight record which stays true to their foundation but at the same time have opened up to other dimensions of extreme metal. This album is top shelf and even though it just came out - I'm already excited for what they can come up with next!
Praenuntius Infiniti out via Unique Leader Records September 17th.