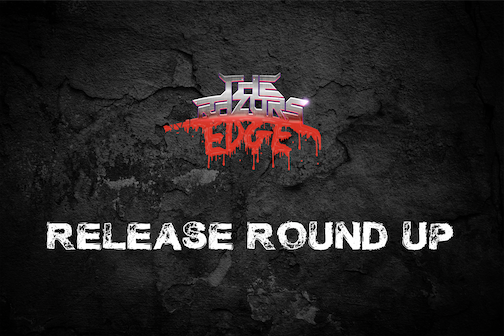 Release Round Up - September 10th
Every Friday there is a tidal wave of new music released unto the world. Whilst we try to cover as much as possible here at The Razor's Edge, it's not always possible to review everything. So each week on a Friday we'll round up some of the best new music available, some we've reviewed, some we haven't, but all worth checking out!
Theres a lot of new heavy music hitting the airwaves this week, everything from black metal, death metal, gothic metal, Stoner rock, doom, thrash metal and even some of your traditional heavy fuckin' metal!
Here's what we think you should check out today!
Metallica release a remastered version of the black album this week, celebrating its 30th anniversary.
"Listening today, 'Metallica' is an album that has stood the test of time. Sounding as fresh today as it did back in 1991."
Read our full review here.
To accompany Metallica's 30th anniversary re-issue, there is also 'The Metallica Blacklist' out today. A compilation of 53 artists covering songs from the classic black album.
"Yes they are some clangers on the covers album and after one listen you'll probably never listen to it again. But it's a nice addition to celebrate the thirty years and to see how other talented musicians can interpret Metallica's work."
Read our review here.
Returning with their 11th studio album, Aborted destroy once more with 'ManiaCult' released on Century Media.
"There's massive riffs, extreme technicality and ferocity that is equal to 100mph tropical storms in the 40 minutes that 'ManiaCult' rages."
Read our full review here.
Welsh metal outfit Rites to Ruin release E.P. 'Fire' on September 6th!
"The EP is underpinned by sweet vocal harmonies, thrilling dual guitar work which brings emphasis to the melodies without ever losing the heavy edge that is already a trademark of the band's sound."
Read our full review here and check out our interview with the band here.
Perfect World's Brooklyn roots and NYHC influence spew out on new album 'War Culture', released this week.
"For all its vitriol and aggressive stance, War Culture is packed with tasty riffs and hooks aplenty, though don't be fooled into thinking it has a softer side."
Read our full review here.
Black metal duo Wald Krypta release 'Possessed By Nothingness' today on label Eternal Death.
"A brilliant black metal album that is unhinged, full of torment and rippling with uncontrolled fury."
Read our full review here.
Glaswegian thrashers Dominicide will destroy your ears this week with new E.P. 'The Architecture Of Oppression'
"They pummel your face into the dirt, before stealing your lunch money, and laughing inanely as passers by stare at them."
Read our full review here.
Not to be confused with the Sheffield hardcore crew of the same name, Portugal's Malevolence is a very different beast and this release of Antithetical is the first time the title has been available on vinyl.
"In the vein of Dimmu Borgir and Cradle of Filth, Malevolence's music is grandiose, with extensive use of the epic possibilities of keyboards utilised to the maximum degree."
Read our full review here.
Turn Cold release a savage and aggressive three track E.P. 'Break Your Faith' this week.
"Thick riffs, spat out vocals and a thunderously pounding rhythm section all combine to give it some real meat."
Read our full review here.
London blackened thrash outfit Overthrow release their debut album this week 'Strike Down The Saviour'.
"The sound is big, full of pacy riffing, thumping drumming and the snarling aggression of Jay White, vocalist, rhythm guitarist and founder member."
Read our full review here.
London based death/doom outfit Cult Burial release new E.P. 'Oblivion' this week.
"The slower, doomier sections make it all the more effective when the brutality and aggression comes smashing back in."
Read our full review here.
New Jersey hardcore outfit Silence Equals Death drop some agression this week in 'I'll See You On The Other Side'.
"A dozen songs that are unrelenting in their approach but with enough sophistication to entice you in"
Read our review here.
And thats just the tip of the iceberg! Other releases today we think you should check out include...
Rock / Hard Rock / Classic Rock
Hawthorne Heights - The Rain Just Follows Me (Pure Noise Records)
MC Roads - No Nostalgia [EP] (Golden Robot Records)
The Dead Deads - Tell Your Girls It's Alright (Rumble Records)
Heavy Metal
Areis - Areis (Wormholedeath Records)
Andrey Smirnoff - Electric Gravity (Self-released)
Cotton Mouth - Altered Mind [EP] (Self-released)
Disconnected Souls - Warring Elements [EP - Reissue] (Self-released)
Death Metal
Centenary - Death... The Final Frontier (CDN Records)
Coffin Rites - Human Erase (Self-released)
Impact Approved - Into The Fray [EP] (Wormholedeath Records)
Journey Into Darkness - Infinite Universe Infinite Death (Spirit Coffin Publishing)
Lvcifyre - The Broken Seal (NoEvDia / Dark Descent)
Mutant Blast - Detonation (WormholeDeath Records)
Replicant - Malignant Reality (Transcending Obscurity Records)
Rotted Through - /the_Depths (Self-released)
Grim Fate / The Sombre - From Ancient Slumber / The Horrid Silence Thus Began (Chaos Records)
Black Metal
Hladomrak - Archaic Sacrifice (Non Serviam Records)
Chrome Waves - The Rain Will Cleanse (Transcending Records/Disorder Recordings.)
Stoner Rock / Doom / Sludge
Cult of Scarecrow - Tales of the Sacrosanct Man (Wormholedeath Records)
Redemptus - Blackhearted (Gruesome Records)
Mastiff - Leave Me The Ashes Of The Earth (eOne)
Trappist / Connoisseur - Cross Faded Split (Tankcrimes)
Progressive Rock / Metal
Shumaun - Memories & Intuition (Self-released)
Four Trips Ahead - Remnants (Dr. Music Records)
Sweeping Death - Tristesse [EP] (Self-released)
Aeons - Consequences (Self-released)
Hunted - Deliver Us (Pitch Black Records)
Sober Truth - Laissez Faire, Lucifer (A Chance For Metal-Records)

And the rest...
Khroma - Ex Nihilo (Inverse Records) [Electro-metal]
Silence Equals Death - I'll See You On The Other Side (Upstate Records) [Hardcore]
Mitochondrial Sun - Bodies and Gold [EP] (Argonauta Records) [Industrial/Electronic Metal]
April 21st - Courage Is Born from Fear (Eclipse Records) [Metalcore]
Starless - Hope Is Leaving You (Self-released) [Post-rock]
Daily Insanity - Chronicals of War (Self-released) [Thrash Metal]
No Coffin - All Life Must End [EP] (Self-released) [Crossover]