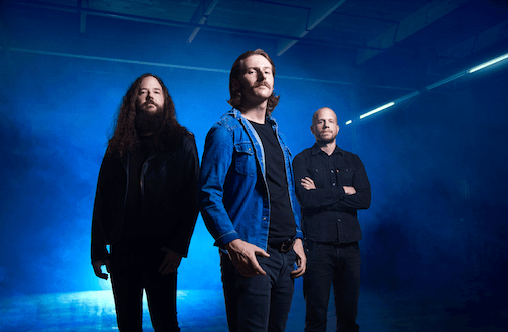 Album Review: Khemmis – Deceiver
Reviewed by Paul Hutchings
Formed in 2012, 'Deceiver' is the fourth album from Colorado three-piece Khemmis. If you are not familiar with the band, then this is an album that may well surprise, for although the band are badged as a doom metal band and certainly deliver plenty to satisfy those in need of a dark fix, there is plenty more to the trio, who comprise Ben Hutcherson (Guitar & Vocals) Phil Pendergast (Vocals & Guitar) and Zach Coleman (Drums).
'Deceiver' contains songs that describe the many ways we can be tricked by our own minds into believing stories about ourselves. Linking it with the suffering of mental health, self-doubt and depression, trauma, and misery, it's a dark album that examines our self-deception.
The opening bars of 'Avernal Gate' start with a pace that is faster than their usual doom-soaked style. However, the tempo slows, the riffs thicken, and the heaviness increases. This is a track that ebbs and flows, whilst maintaining a crushing intensity that is continued throughout the album. It's a majestic beginning to a thrilling and hugely enjoyable record.
'Deceiver' takes some time to get acquainted with. You'd be disappointed with an instantly accessible release though, wouldn't you? The sombre tone of 'House of Cadmus' with its oppressive intoxicating feel and gruff, almost demonic vocals is drenched with atmosphere. It's both harrowing and uplifting.
There may only be six songs on this album, but they are heavyweight beasts, with two songs going deep over the eight-minute mark. The first release, 'Living Pyre' is incidentally the shortest song. Uplifting melodies are threaded carefully through the emotion that pours out. Investing listening time pays benefits, for this is a marvellously crafted release which rewards generously. The majesty of the eight-minute plus 'The Shroud of Lethe' with its sprawling soundscape, dramatic tales and twists and turns is enough to reward the diehard fan – it is that good with some stunning musical talent on display.
For Khemmis, 'Deceiver' has been a long time coming. But the band dug deep, and the result is a fantastic album full of driving passages and more intricate interplay. It's an album that deserves a wider audience, such is the quality which oozes from start to finish. Dive deep, immerse in the despair and misery that the band generate. It's a journey well worth taking.