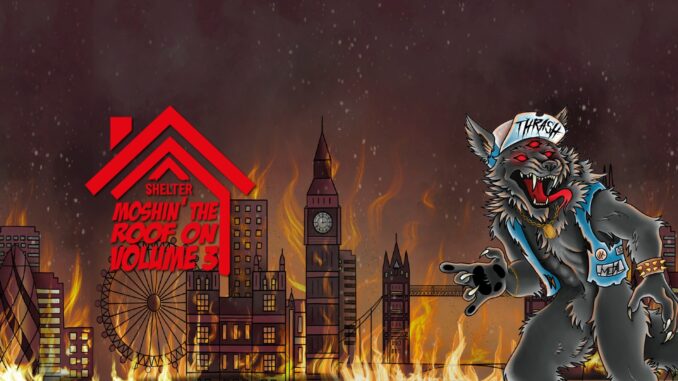 Album Review: Various Artists - Moshin' The Roof On Vol. 3
Reviewed by Matthew Williams
Nothing gives your weary, sleep deprived body a good kick up the arse better than a Sunday afternoon blast of British thrash. 'Moshin' The Roof on Volume 3' continues to support the work carried out in the UK by Shelter, with this 30 song compilation CD, once again helping to combat homelessness across the country.
Since it started in 2020, the UK Thrashers community has compiled a double album worth of exclusive and advanced tracks annually to help those less fortunate than ourselves, with over £4200 being raised via Volumes 1 and 2, by showcasing the talent of underground metal across the UK. There are some old friends returning to Volume 3, joining newbies to raise funds for a much needed cause.
30 bands across a double CD is a lot of new music to wrap your head around, but as I slowly digest the different styles, there is something for everyone to enjoy. Disc A kicks off with an exclusive track from blackened thrash metallers Hellfekted, who hail from Stoke not far away from me, and immediately another band goes into my now bulging black book of bands to see live. The most impressive of the early bands are Londoners Thrasherwolf, who have crafted an absolute gem of a thrash song entitled 'Blood Moon'. It's nearly nine minutes long, but you just don't want it to end, quality stuff.
As with any compilation, I am instantly drawn to the catchy and interesting names of the bands on the list, and the awesome song titles. 'The Abduction Process' by Staffs based aggressive thrashers King Abyss, who have produced another awesome song, a band to keep an eye on methinks. 'Built by Hate' from Liverpool based Devils Henchman, has that classic 80's Bay Area feel to it, and for me, is the stand out track on Disc A. The two other names that immediately stand out are self-proclaimed grumpy four piece from Surrey, Gutlocker, who have a gnarly riffed song called 'Absence of Change' and followed by the wonderfully names Thrashsquatch!, with the bullet like 'Skeleton Man'.
And just when you think the fun is over, you begin the journey onto Disc B, beginning with the ferocious, no nonsense metal from Hertfordshire's own Helgrind. 'Last Dance' is bloody awesome, horns raised, head-banging thrash metal in is purest form. We have the brilliantly named Chimp in a Box, bringing some "English New Wave Thrash" to the battle.
I know a couple of the guys in Day of Wrath, and their early Slayeresque thrash metal is exactly what I love about the scene, but the production is a bit muffled, spoiling Adrian's vocal performance, but its still a raging thrasher of a song. See you soon guys. Scarred by Truth bring something a bit different with their song 'B.L.E.E.D.S.' before More Death and Horror add their gruesome horror themed 'Hellbound Heart (Lets Kill Frank)' almost like a sacrificial lamb to the slaughter, wonderful stuff.
The second disc is wound up by some brilliant songs, full of killer riffs, spearheaded by Surrey's Dead Before Mourning with 'Red Mist and Adrenaline' but followed by the blackened crossover from Yorkshire's finest, Sidewinder BC, with the brutal 'Last Orders'. Black Thrash/Speed metallers Devastator from Derby, do put in a late contender for the fastest and heaviest track of the entire compilation with 'Merciless Onslaught' before Imperium and Elimination wrap up the proceedings.
These 30 tracks prove that the underground British Thrash scene is in rude health with some quality music being produced across the country and the cause in which they've all joined together is a just and noble one. Here's to Volume 4!
>> Buy your copy of Volume 3 HERE <<