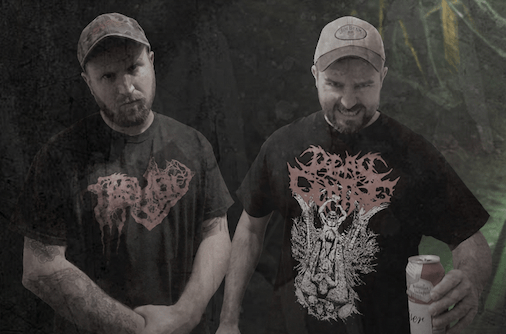 Album Review: Slob - Deepwoods Shack Of Sodomy
Reviewed by Daniel Phipps
AARRGGHH! The Slob debut is finally here and it has the job to take us all on a trip from sleepy Bedfordshire all the way to the most southern US sticks where rather horrific deeds have been rumoured to happen to unwilling travellers. I'm not going to lie I've been eagerly awaiting the release of Deepwoods Shack of Sodomy since the band released a early demo back in 2019. The raw and utterly savage nature of this initial track which at the time featured alongside founding member James Murphy (not that one) Crepitation and original Amputated front man Mark Pearce. James himself also having a deep resume who's list of past bands just to name a couple include Embryonic Depravity and Omnipotent Hysteria who have been responsible for some of the best brutal death metal in the history of the U.K. scene it's safe to say my expectations of this release are high.
Now Mark does not perform on the album with Janes picking up that along with guitar and programming duties and with fellow guitar player Ross Honour, Slob provide a sheer disgusting piece of brutality, right from the end of the rather unpleasant opening introduction samples Deepwoods Shack of Sodomy erupts into a barrage of high tempo viscious riffing. The song writing is very reminiscent of the classic TXDM sound. My initial thoughts turned to an act like Viral Load as an example and you can also find similarities to California's Deeds of Flesh along with Indiana's Gorgasm.
Slob attacks with a very powerful putrid vocal performance on top of the raw brutal riffs, with the drums blasting your ears to pieces and you can't have enough of that. Now the drums are programmed and they sound as if they are meant to have a programmed feel to them instead of trying to mirror a real drummer. Following each bulldozer piece of brutal death metal Deepwoods Shack of Sodomy will make your skin crawl with its use of samples before unleashing into its next dose. Along with the sheer putridness Slob also offers some great groove filled hooks and evil devastating slams to provide listeners with a full on dose of what brutal death metal offers.
Deepwoods Shack of Sodomy is a remorseless collection of obscene brutal death metal and is perfect for all lovers of the style in all its forms, with the bands label Comatose Music coming off a phenomenal 2021 release schedule which featured NecroticGoreBeast, Stabbing and Twitch of The Death Nerve, Slob have certainly started 2022 off on a similar foot.