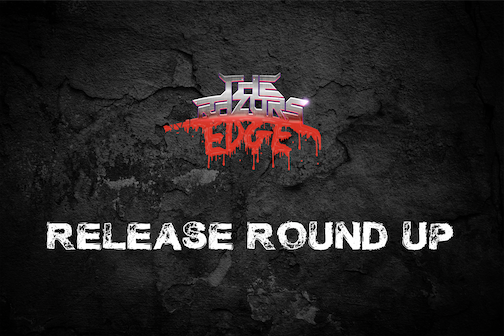 Release Round Up - March 11th, 2022 
Every Friday there is a tidal wave of new music released unto the world. Whilst we try to cover as much as possible here at The Razor's Edge, it's not always possible to review everything. So each week on a Friday we'll round up some of the best new music available, some we've reviewed, some we haven't, but all worth checking out!
Theres a lot of new heavy music hitting the airwaves this week, everything from black metal, death metal, gothic metal, Stoner rock, doom, thrash metal and even some of your traditional heavy fuckin' metal!
Here's what we think you should check out today!
Papa Emeritus IV will grab you by the hoo-ha with Ghost latest album 'Impera' this week.
"it's a heavy, throbbing vessel with which the band hook you in"
Read our full review here.
Chronomancy deliver epic fantasy power metal on new album 'Shadows In Atlantis', released via Fighter Records.
"Loud, proud, and full of passion..."
Read our review here.
British thrashers Xentrix reissue 'Shattered Existence' via Cherry Red Records this week.
"It's also an honest record that wears both its heart and it influences on its sleeve."
Read our full review here.
Fans of chaotic, rage fuelled music rejoice Ho99o9 are back with 'SKIN' released on DTA Records this week.
"SKIN is another excellent fusion of dark hip hop and punk."
Read our full review here.
Pillaging Villagers offer a meld of aggressive punk influenced crossover thrash and melodic Celtic folk metal on their self titled album.
"Chaotic, raucous, fast and furious pitchfork-wielding madness that is rampaging through your sound system"
Read our review here.
Danish four piece Konvent return with sophomore album 'Call Down The Sun' on Napalm Records.
"A sonic soundscape that is bleak, harrowing and unremittingly heavy."
Read our review here.
Bristol based brutal outfit Cryptworm unleash 'Spewing Mephitic Putridity' this week.
"The moment you press play you're subjected to the band's gargling and repulsive vision."
Read our review here.
Jizzy Pearl's branch of the Love/Hate tree releases 'Hell, CA' this week on Golden Robot Records.
"There's a fair few hard rocking sleazy riffs on it."
Read Carl's interesting take on the album here.
Polish blackened thrashers Warfist released their fourth album 'Teufels' this week on Godz Ov War Productions.
"With the balls to give a raucous cover of Arthur Brown's 'Fire' as their parting shot, they've completely won me over."
Read our full review here.
And thats just the tip of the iceberg! Other releases today we think you should check out include...
Rock / Hard Rock / Classic Rock
Port Noir - Cuts (Despotz Records)
The Human Tornado - Love Is Démodé (Rockshot Records)
Heavy Metal
Airacobra - Midwestern Steel (Self-released)
Mamorlis - Sturdy as an Oak (Self-released)
Death Metal
Idol of Fear - Trespasser (Somnolence Productions)
Persecutory - Summoning The Lawless Legions (Godz ov War)
Pestilength - Basom Gryphos (Nuclear Winter)
Syk - Pyramiden (Nuclear Blast Records)
Trenchant - Commondoccult (Godz ov War)
Black Metal
Amaltheia - Amaltheia (Godz ov War)
Besna - Zverstva (Self-released)
Boötes Void - C.O.L.D. (Ketzer Records)
Ceremoniële Walging - Vergeet de eeuwenoude haat nooit (Babylon Doom Cult Records)
Kharon - Shores of Acheron (Self-released)
Sidious - Black Insurrection (Clobber Records)
Stoner Rock / Psych / Doom / Sludge
Acid King - Live at Roadburn 2011 (Burning World Records)
Messa - Close (Svart Records)
Purple Dawn - Peace & Doom Sessions Vol. II (Electric Valley Records)
Sidus Atrum - Spiral of Life (Kvlt und Kaos Productions)
Stahv - Electric Youth (Self-released)
Thrash Metal
Invocator - Excursion Demise [REISSUE] (Hammerheart Records)
Invocator - Weave The Apocalypse [REISSUE] (Hammerheart Records)
And the rest...
a-tota-so - Lights Out (bUTTONpUSHER)
Drug Church - Hygiene (Pure Noise Records)
Shadow Universe - Subtle Realms, Subtle Worlds (Monotreme Records)