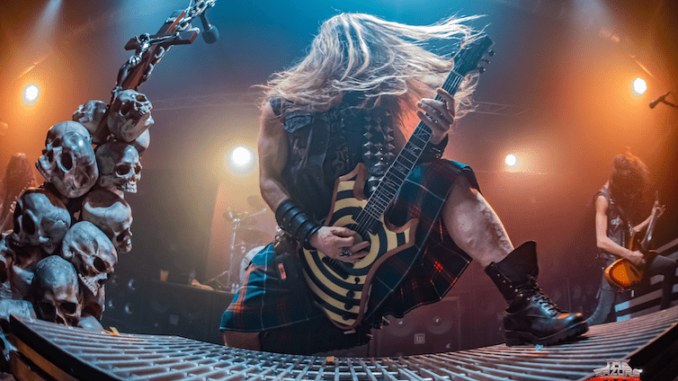 Live Review: Black Label Society - Liverpool
9th June 2022
Support: Tuskar
Words & Photos: Tim Finch
Riff Master General Zakk Wylde is in town, with Black Label Society set to perform at Downlaod Festival 2022 the band have booked in a few warm up dates including the nations capital last night and then this evenings stop in the wonderful city of Liverpool. On a Thursday evening prior to Download the streets around the city's O2 Academy venue are chocked full of big, bearded monsters all set to worship their guitar hero. The Rolling Stones also perform an Anfield tonight so the city is buzzing at the delights on offer.
The 1000 capacity room is packed to the rafters, a great sight post pandemic, as opening act Tuskar hit the stage. Off the back of their debut full length album for Church Road Records and an intimate headline tour last month they now play with the big guns at the more prestigious venues. The Milton Keynes duo of Tyler Hodges (drums/vocals) and Tom Dimmock (guitar) produce a cacophony of heavy sounds. Sludge metal meets grunge meets the aggression of hardcore.
The rolling, thunderous drums and Hodges barbaric vocals mesmerise. Enchanting the crowd, drawing them into their dark, doom laden world. For just two instruments, it's surprising just how captivating the live performance is, they have won a great many fans tonight.
The anticipation for Black Label Society builds as a curtain bearing the bands patch hides the stage, the Led Zep/Black Sabbath mash up 'Whole Lotta Sabbth' blares out as the crowd sings along. The heat rising in the room, the atmosphere electric and then BOOM the opening riffs of 'Bleed for Me' ring out, the curtain drops and the crowd goes wild.
The towering figure of Wylde stands atop a pedestal, kilted, adorned with battle jacket his fist pounding the air between every riff. It's an intoxicating sight seeing Black Label Society live, the guitar-manship is outstanding, drawing a heavy influence and turning it anthemic.
The set is a career spanning ensemble featuring classics 'Demise of Sanity' through to later songs like 'Destroy & Conquer'. As ever Zakk loves a guitar solo, and why not given the man's talents, let him indulge himself whilst entertaining us. But it' the main set that gets the crowd going, all of which is topped off with 'Suicide Messiah' and 'Stillborn'.
As Zakk heads off to download then the European festival circuit, the Liverpool massive leave happy, their bearded brethren have put on one hell of a show.