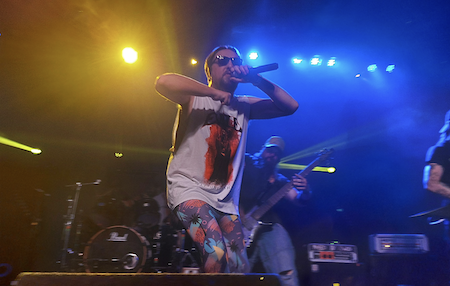 Live Review: Raised By Owls - The Rescue Rooms, Nottingham
28th May 2022
Support: Replica Jesus, Pemphigoid and Tortured Demon
Words: Patrick O'Reilly
The Rescue Rooms hosted a gala of British metal talent and what a night it was.
Openers Replica Jesus got some early showing punters heads banging with their groovy stoner rock, fast sections mixing nicely with slowed heavy jams, these guys were a perfect laid back introduction for the madness that was to come.
Next up were local death metal heroes Pemphigoid. With a loyal contingent of local supports they set about their set with vigour and intensity and served up an aural treat for lovers of old school death metal. Fusing mid-paced chugging death metal with punky rhythms and attitude these guys went down a storm and proved once again that there is no country like the UK for producing quality death metal acts.
I was blown away by the next act, Tortured Demon from Manchester. When three really young looking kids took the stage I wondered if they would have the presence and confidence to follow two really decent acts and boy did they deliver! Roaring out of the traps with an intensity and youthful energy that has to be seen to be believed these guys really put everything into this performance and from the grins on their faces they enjoyed it just as much as the crowd who banged their heads and started the first mosh pit of the night. Playing an amalgamation of thrash metal with various modern styles of metal including some stunning breakdowns these songs sounded immense. For a three piece they really made some noise and it was a really full and heavy sound throughout their set. In their frontman they have a superstar who has the confidence and playing ability of a young Dave Mustaine and showed a similar attitude and enthusiasm too.
Finally it was the turn of Raised by Owls to bring their British Meme Metal assault to the Rescue Rooms stage. I have never witnessed anything quite like this in my gig going life with such craziness on display as a circle pit in honour of Barry Chuckle and Mr Blobby entering the pit wielding a double ended dildo.
They reeled off classics from their two albums which delighted the crowd, there was dancing, singing and of course moshing. Make no mistake these boys may write funny songs but they still go hard and blast and grind with the best of them. They were incredibly tight and sounded great.
We were treated to such delights as 'Ross Kemp on Gangbangs' and the sublime 'Rob Halford Robs Halfords', we had a singalong to 'Night of the Living Dildos' and its screamed refrain of "DILDOS!" at the end of the song. We got to hear a new song about going for a drink with Corpsegrinder and various other crazy hits before it was time for 'Ainsley Harriott Advises You to Give Your Meat a Good Ol' Rub' and then 'Off to the Pub' and it was over.
It was a stellar performance and leaves the owls seriously in danger of becoming British institutions like Noel Edmunds, David Dickinson and Bruce Forsyth plus all the other stars they have written about.
Image Credit: Patrick O'Reilly