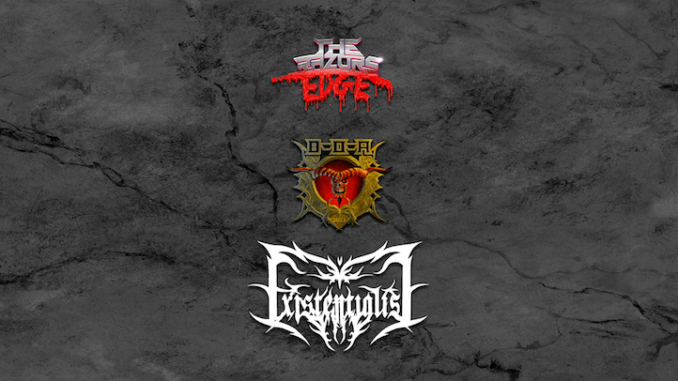 Bloodstock 2022: Introducing - Existentialist
As Bloodstock gets closer, we delve deep into the line up to find out more about some of the bands playing the New Blood and Jägermeister stages at this years event.
Today we chat with Olly, drummer of Existentialist!
The Razor's Edge: Please introduce yourself and your band mates.
Olly: We are Existentialist from Essex/Suffolk UK. I'm Olly, I play drums, Sam and Jonny are our guitarists, Phill plays bass and Patty is our vocalist.
The Razor's Edge: How would you describe your style of metal?
Olly: We would usually say blackened deathcore. Using a blend of fast trems and blasts, breakdowns, slam riffs, some ambient doom elements and epic orchestration.
The Razor's Edge: How did you land your spot on the Bloodstock bill?
Olly: We won the Essex Metal to the Masses competition.
The Razor's Edge: How tough was the competition this year?
Olly: Essex was really tough. Every band in the final was Bloodstock quality, our friends in Collected have also since made it to the New Blood stage too which I think goes to show the strength of the Essex metal scene. When the results were read we genuinely had no idea who would end up where. It could have been anyones.
The Razor's Edge: What does playing at Bloodstock mean to you?
Olly: It's the biggest extreme metal festival in the UK, so for us this is enormous. Particularly this year some of my all-time favourite bands are on the bill, so it couldn't have been better timing.
The Razor's Edge: For people who've never seen you live, what can they expect at Bloodstock?
Olly: Hopefully a memorable show. We try to make our live show seamless, and follow the same feel as our album, we like to think there's a sort of flow to it. In addition, you can expect much head banging, sweat, circle pits and a wall of death.
The Razor's Edge: What day are you performing?
Olly: We are playing on Friday.
The Razor's Edge: What other bands are you looking forward to watching at Bloodstock this year?
Olly: There's no one really I don't want to see. Behemoth, Dark Funeral, Cattle Decapitation, Ingested, Lorna Shore... I think I'm just listing the whole lineup now. There are a lot. My band mates and I all have varied taste so they'd make this list even bigger.
The Razor's Edge: Playing the New Blood Stage is just the first stepping stone in a bands journey. What's next in your plans for world domination?
Olly: We finished recording our second album last month, so we're about to start the post-production and release schedule for that. We're hoping to start talking distribution with a few companies too. We're currently in the middle of our summer tour with Beyond Extinction, last years Essex winners and this has been an awesome chain of sell-out shows and packed venues. Following Bloodstock we will be supporting Ghosts of Atlantis in our hometown, this will be our largest venue to date (excluding Bloodstock), and we're also playing with Osiah and Monasteries on their UK tour in October. There's a lot more in the pipeline but I can't say everything just yet.
The Razor's Edge: See you at Bloodstock next week!
Olly: Thanks! Looking forward to it.