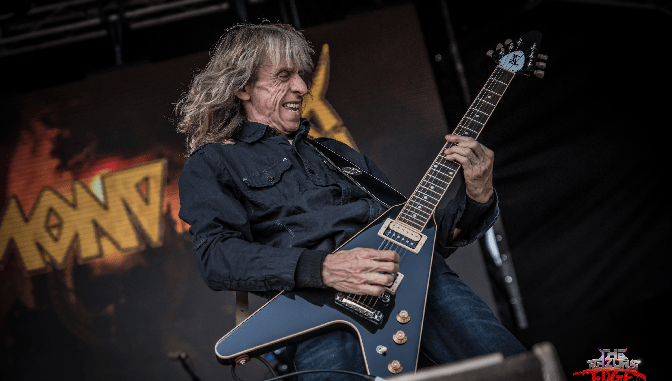 Album Review: Diamond Head - Lightning To The Nations
Reviewed by Paul Hutchings
You can tell a lot about a band by the number of compilations that exist. If they outnumber studio albums, chances are they have struggled with years of poor management, bad decisions and inevitably will still be playing at a lower level than one might expect. One such band is Diamond Head, whose eight studio albums are dwarfed by 12 compilations in their discography.
'Lightning to the Nations' was the debut album by the Stourbridge outfit. The band were worshiped by a certain Lars Ulrich, who spent time in his formative years travelling around the UK with the band on tour in the early 1980s. That original line-up comprised guitarist Brian Tatler, vocalist Sean Harris, drummer Duncan Scott and bassist Colin Kimberley. If you listen to the original album, you'll get the feel of it as it was intended in 1980. It's raw, fast and a damn fine debut release. Not only does it contain those 'classics' made famous by Metallica ('The Prince', 'Am I Evil?' 'It's Electric' and 'Helpless') but it also has the title track, 'Sucking My Love' and the throwaway 'Sweet and Innocent'. Seven songs over 41 minutes. Six of those songs still feature in the band's live set which is something few bands manage these days.
'Lightning to the Nations' stands as a record of the band in 1980, a time when they were on the verge of breaking through into something bigger which they did following their move to MCA, which resulted in a UK tour which included headline shows at Hammersmith Odeon and a prestigious slot at the Reading Festival. The rest of their career is a bit of a car crash, held together by the repeated reference to those Metallica covers, until four years ago when Rasmus Bom Andersen joined the band. Their resulting two albums have been extremely solid with last year's 'The Coffin Train' a personal favourite of mine. They have always been strong live, and their most recent gigs that I've been at have been excellent.
All this gibberish is leading somewhere I promise you. Now, 'Lightning to the Nations' has already been remastered and re-released twice in the past 20 years, most recently in 2011. So, what does the world need like a hole in the head? That's right, another version of the same bloody album. Yes, it's the 40th anniversary but just for once, how about looking forward and providing us with some fresh new material instead of looking at the cash cow because I cannot see any other reason for this album. The songs may be timeless, but I know I'm not the only one whose shoulders round when I hear the riff to 'Am I Evil?'
'Lightning to the Nations 2020' is certainly beefed up. A huge production sound gives it a muscular feel missing on the original, but that's the charm of the 1980 version. The production was 1980, not 2020. Bom Andersen brings a fresh feel to the songs, but he's not Sean Harris. We know he can do these songs if you see the band live. If you haven't seen them live, then you can't really be that much of a fan anyway. The songs are all bombastic, full-bodied and generally huge versions of the originals 'Am I Evil?' is punchy, robust, and full of riffs but it's still the same fucking song! Change the record please!
So, is there anything that stands out? Well, you get an additional four competent cover versions which don't really get the heart racing. Metallica's 'No Remorse' is faithfully delivered. Bom Anderen does a decent job and the big sound gives it oomph. Zeppelin's 'Immigrant Song' gets the heavy make-up, with Bom Andersen hitting the high notes with ease. It's a bursting heavy version but a bit of a lazy choice. The band cover Priest's 'Sinner' with aplomb, and finish with the slightly more obscure 'Rat Bat Blues' by Deep Purple. I suppose if you are a super fan, these covers may be of interest but otherwise they are just a bit of padding.
This album is by no means bad. It's excellently played, well produced and every member does a decent job. It just rankles that the band have chosen to do this. Over the past five years Diamond Head were slowly building up the quality. I'm afraid that this really doesn't take it to the next level and the cynic in me finds this record quite a challenge to stomach.