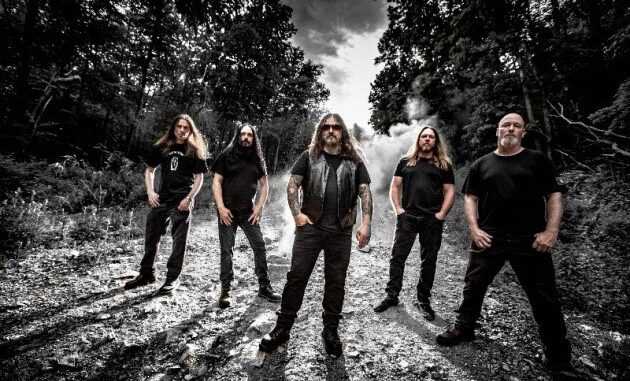 Album Review: A Pale Horse Named Death – Infernum In Terra
Reviewed by Paul Hutchings
It's consensus even with Sal Abruscato that 2019's 'The World Becomes Undone' wasn't the band's best effort. Whilst the title was prophetic, the music felt a little rushed, which may be strange when you realise it was six years since 2013's 'Lay My Soul To Waste'. Of course, Abruscato hadn't been sitting idly by, but had been back with Life of Agony, recording and touring for much of that time.
So, it was with some trepidation that 'Infernum In terra' arrived a few weeks ago. I needn't have worried. Album number four by A Pale Horse Named Death is as dark and harrowing as those previous records but contains lighter elements that shed some hope. Written during the pandemic, Abruscato admitted to me in our recent interview that he spent time working on the songs followed by large gaps where he didn't go near the thing. To the common ear, that sounds incredible, but the man has many other commitments and interests, and this approach clearly has been of benefit, because 'Infernum In Terra' is a stellar release.
There's a distinctive sound to A Pale Horse Named Death and 'Infernum In Terra' continues that style. Huge riffs, dark melancholic segments and Abruscato's deep, melodic vocals as well as his distinctive drum sound all combine. The opening riffs to 'Believe in Something (You Are Lost)' crash home like a welcome friend, and instantly there is a warmth despite the shadows and misery that the band's sound instantly projects.
It isn't simply melancholia that is part of the band's sound. As well as those crushingly heavy guitars, we have the introduction of percussion, tubular and orchestral bells and piano. Tracks such as 'Shards of Glass', the imperious 'Slave to the Master' and 'Two Headed Snake (Propofol Dreams)' all soar with a majestic dominance that those who already follow the band will surely appreciate.
Whilst Abruscato naturally veers towards solitude, misery and negative mental health, there are rays of hope cocooned within 'Infernum In Terra'. Picking a name that in Latin means Hell on Earth is even more apt that 2019's title. But Abruscato is optimistic in a small way about the ways of the world. Search deep underneath the songs, devote an hour or two to repeat plays of this record and you'll likely find yourself deeply intoxicated by the complexity and drama that is crafted here. It's an album that should delight old fans and attract new ones at the same time.