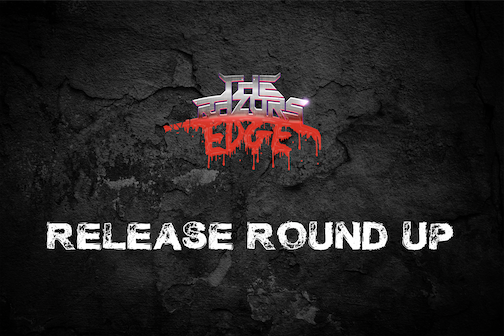 Release Round Up - April 2nd, 2021
Every Friday there is a tidal wave of new music released unto the world. Whilst we try to cover as much as possible here at The Razor's Edge, it's not always possible to review everything. So each week on a Friday we'll round up some of the best new music available, some we've reviewed, some we haven't, but all worth checking out!
Theres a lot of new heavy music hitting the airwaves this week, everything from black metal, death metal, gothic metal, Stoner rock, doom, thrash metal and even some of your traditional heavy fuckin' metal!
Here's what we think you should check out today!
Legendary black/death metal drummer Nick Barker (Cradle of Filth, Dimmu Borgir, Testament, Lock-Up, Brujeria and more) branches out this week with Borstal a new project based on his love of the New York Hardcore scene. Debut E.P. 'At Her Majesty's Pleasure' came out yesterday!
"Blending elements of hardcore punk and Oi! with a huge slice of New York Hardcore inspired frenzy, Borstal arrive with the subtly of a sledgehammer and the pissed off attitude of a disgruntled bull."
We chatted with Nick earlier this week about the project, listen here. And check out our E.P. review here.
Blue Ox deliver a slab of hardcore for you, in the form of the new album Holy Vore - which lands today!
"A ferocious assault of an album, which wastes not even a second before rushing into the fray. It piles in with a pummelling riff and screeching vocals before anyone's had chance to get their coat off."
There are a couple more hardcore releases out today. Bones of the Earth drop the killer 'II. Eternal Meditations Of A Deathless Crown' whilst hardcore/punk oputfit Incisions release their own storming E.P. 'Bliss'. Watch the video for 'No Blame' below!
Progressive thrashers Vektor re-appear on the scene, despite a cloud looming large over David DiSanto's personal life. Two track E.P. 'Activate' is released today.
Whilst their music is good, the external factors cast a shadow that is hard to move past. There's not much more we can say, but you can read our thoughts here.
Thrash metal comes in many forms, Indonesian outfit Spellforger put their own slat on the genre with the blackened thrash of their debut 'Upholders of Evil'.
"This E.P. is very much a throwback and perfectly emulates the old school sound which inspired the creation of the band. This is bare to the bones blackened speed metal with a heavy doses of old school thrash and death metal thrown in for good measure."
Read our review here.
Mancunian black metallers Wode have made us wait four long years for a new album and today it's finally here in the form of 'Burn In Many Mirrors'.
"Wode waste little time erupting in a cacophony of fierce riffs combined with harrowing screams and a frantic, punk-tinged energy that pushes the limits. Snarling, primeval vocals tear and rage, whilst the faintest sliver of melody surfaces."
Read our full review here.
Staying with black metal for a moment, there are also releases from Ghostly Aerie Coven,Labored Breath, Sielunvihollinen, Suspiral, Sleepwalker and Vitrail! And melding doom in with the black are Nekkrofukk, Rorcal & Earthflesh.
It's fair to say, if you are a black metal fan, Good Friday is a good day for new music!
Australian metallers Lord release an extensive and eclectic covers album today.
"21 tracks plus two from Lord Tim's Blackened Angel project is a large volume to steer through. There are pop songs, thrashers, and ample power metal staples. Opening with countrymen Savage Garden's 'To the Moon and Back', the best option is probably to settle in and enjoy the ride."
Read our review here.
For all you power metal fans, Malacoda have a new E.P. out today in 'Crawling Chaos'.
"Malacoda's sound is a fiery brand of gothic metal, with heavy riffs and pounding drums working in tangent to soaring melodies and dramatic passages of keyboards and synths. It's a heady mix and one that works well."
Check out our review here.
In the death metal world there is a flurry of new releases for you to sink your teeth into. Act of Denial have a new single out, 'Slave'. whilst there are albums from Obvurt, Angelic Desolation, Fulci, Ischemic, Steel Bearing Hand, Obscure Fate, Karma Violens, Moral Collapse and Plagueweilder.
JoeyDiablic this week pays tribute to Freddy Krueger and the Nightmare on Elm Street files with his new album 'Through Soundwaves Volume 4'.
"Soundwave volume 4 is an interesting listen and a must hear for fans of the Nightmare on Elm Street series. In fact, anyone who grew up on a diet of eighties horror movies should give this a listen as JoeyDiabolic has captured the spirit and the sound of the genre admirably."
Read our review here.
For a slice of good old fashioned heavy fucking metal look no further than the 'World on Fire' E.P. from Sea of Snakes!
"Gnarly, feisty, and full-on, Sea of Snakes aren't taking any prisoners. The world may be on fire; these guys are merely adding fuel to the inferno."
Read our review here.
Arx Atrata and Bleakwater Shrine  join forces this week on a split post-black metal album entitled 'The Warrior Cycle'.
"This record is unique. It's concept aurally stimulating. The absence of lyrics and vocals don't distract from the epic flavour and feel. At times, it soars almost out of orbit. In a world that sometimes suffocates with its own creativity, this record stands apart like the breath of fresh air it truly is."
Read our review here.
There is also; alt-rock from Shallow, ambient doom/drone from The Sun and the Mirror, avant-garde rock from Odd Circus, classic rock from Friday Breath and out and out doom from Jointhugger.
For something completely different check out 'Insanity Mirror' from Noisepoetnobody. Both Heavy Trip and Son of Boar offer the stoner fans something new this easter, Aphrodite offer us up some speed metal, there's a new single from Irish stalwarts Dead Label and Ornimal, Justin Larner both offer up some trditional heavy as hell music!
Plus there are releases from Los Disidentes Del Sucio Motel, Grunt, Bruit ≤, Avaland, Trope, Mythic Sunship, Aythis and Snake Bite Whiskey.
Happy easter everyone!
And thats just the tip of the iceberg! There is so much new music out today for you to get your groove on to. Enjoy it all!