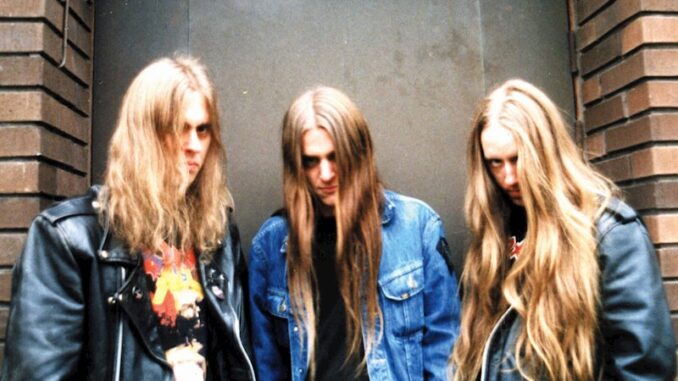 Album Review: Hypnosia - Extreme Hatred
Reviewed by Paul Hutchings
Every day is a discovery. I'd never heard of Hypnosia, but the 35 minutes of aggressive thrash that erupted from the speakers in the shape of 'Extreme Hatred' certainly met with my approval. The band who came from Sweden, existed from 1995 – 2002 and released this solitary album. The line-up for 'Extreme Hatred' comprised guitarist and vocalist Mikael Castervall, drummer Michael 'Mike' Sjöstrand (RIP 2004) and guitarist/bassist Hampus Klang.
There's little originality in this release. It's a furious combination of Morbid Angel and Kreator, bundled together with more aggression than ticketless England fans at the Wembley gates and should be an enjoyable listen for anyone who enjoys their thrash cooked medium rare.
From the title track which kicks off the release, there is only one speed … and that is heads down fast. The songs are well structured, powerful and vicious, with Castervall's visceral rawness giving the songs a gnarly, angry and authentic feel. Highlights include the heavy metal feel of 'Gates of Cirith Ungol' where the band delve into their inner Tolkien, the pit-driven 'Comatose' and the blisteringly short and fiery 'Hang 'Em High'.
Whilst the band are no longer with us, the reissue may well be worth investing in and comes in both vinyl and CD formats, remasterd by Erwin Hermsen at Toneshed Studio (Trouble, Pestilence, Malevolent Creation, Dead Head) with the cover artwork by Kris Verwimp (Absu, Arch Enemy, Old Man's Child)