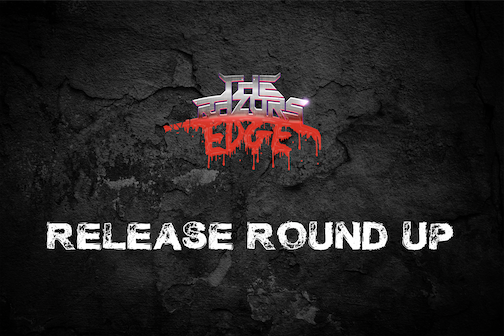 Release Round Up - October 8th
Every Friday there is a tidal wave of new music released unto the world. Whilst we try to cover as much as possible here at The Razor's Edge, it's not always possible to review everything. So each week on a Friday we'll round up some of the best new music available, some we've reviewed, some we haven't, but all worth checking out!
Theres a lot of new heavy music hitting the airwaves this week, everything from black metal, death metal, gothic metal, Stoner rock, doom, thrash metal and even some of your traditional heavy fuckin' metal!
Here's what we think you should check out today!
Trivium are back, just a year after their last album they drop new opus 'In The Court Of The Dragon' this week via Roadrunner Records.
"'In The Court Of The Dragon' allows the band to grow, develop and explore and whilst doing so taking the listener on an exciting assault of their senses."
Read our full review here.
French death metallers Naraka drop their debut album 'In Tenebris' this week on Blood Blast.
"Naraka are this very subtle fusion of Septicflesh and Gojira that fans of both bands are assured to thoroughly enjoy."
Read our full review here.
Blood Red Throne release a blistering new album this week in 'Imperial Congregation', released Friday via Nuclear Blast.
"Imperial Congregation is another face ripper of an album from one of the most reliable bands in extreme metal."
Read our review here.
Three piece Australian prog rockers The Omnific release 'Escapades' this week on Wild Thing Records.
"An accessible style of progressive rock music that switches from dramatic sonically challenging soundscapes to more measured, cinematic elements."
Read our full review here.
Untamed Land have a completely unique sound in the metal world and release their latest album 'Like Creatures Seeking Their Own Forms' on Napalm Records this week.
"An album with many twists and turns, complex and intricate yet with a warmth and familiarity that encourages you to listen again and again."
Read out review here.
Canadian death metal outfit Atræ Bilis release 'Apexapien' this week on 20 Buck Spin.
"The dark and technical guitar work along with devastatingly powerful rhythms and booming vocals create a truly interesting and intense listening experience."
Read our full review here.
Putrevore are back with an extreme slab of music in 'Miasmal Monstrosity', released this week on Xtreem Music.
"This is nothing short of total vocal obliteration."
Read out full review here.
Australian alt metal outfit Space Goat drop new album 'Catharsis' this week.
"A powerful collection of tunes that display lyrical honesty, with well crafted genre-melting songs."
Read our full review here.
And thats just the tip of the iceberg! Other releases today we think you should check out include...
Rock / Hard Rock / Classic Rock
Eclipse - Wired (Frontiers Music)
The World Is A Beautiful Place & I Am No Longer Afraid To Die - Illusory Walls (Epitaph)
Three Fourths Francis - Electric Telegraph (Self-released)
Non Residents - Against Police Brutality (Self-released)
Wooden Fields - Wooden Fields (Argonauta Records)
Heavy Metal
Renegade Angel - Damnationn [EP] (Inverse Records)
Mistica - XVA (Yahuar Mallcu Records)
Gus G - Quantum Leap (AFM Records)
Spacegoat - Catharsis (Self-released)
U.D.O. - Game Over (AFM Records)
Death Metal
Antichrist Siege Machine - Purifying Blade (Profound Lore)
Death's Eminence - In A Hideous Dream Made True (Self-released)
Spiritual Deception - Oxymoron [EP] (Self-released)
Voidfallen - The Atlas of Spiritual Apocalypse (Inverse Records)
Spectral Darkwave - At Outer Dark (Occidental Records)
The Breathing Process - Labyrinthian (Unique Leader Records)
Black Metal
Alda - A Distant Fire (Eisenwald)
Blackdeath - Also Sprach Das Chaos (EAL Productions)
Norse - Ascetic (Transcending Obscurity Records)
Paydretz - Chroniques de l'Insurrection (Antiq)
Stheno - Wardance (7 Degrees Records / Chaos & Hell Productions)
Stoner Rock / Doom / Sludge
Mercury Circle - Killing Moons (Noble Demon)
Our Man in the Bronze Age - Hexed Endeavours (Fr33zehead Records)
Kowloon Walled City - Piecework (Neurot Recordings)
Kite - Currents (Majestic Mountain Records)
Slowshine - Living Light (The Lasting Dose Records)
Filth Wizard - Sleepeater (Self-released)
And the rest...
Siren's Rain - Rise Forth (Self-released) [Folk Metal]
thoughtcrimes - Tap Night (deluxe) [Re-issue] (Pure Noise Records) [Hardcore]
Endless - Lapse: The Guilt We Hold (Self-released) [Post-hardcore]
Haerdsmaelta - All Alone In The Danger Zone (Sliptrick Records) [Post-punk]
blanket - Modern Escapism (Music For Nations) [Post-rock]
In Solastalgia, Either Way - Mori [EP] (Self-released) [Post-rock]
Manimal - Armageddon (AFM Records) [Power Metal]
Black Sites - Untrue (Self-released) [Prog Metal]
Teramaze And The Beauty - They Perceive (Wells Music) [Prog rock]
John E Vistic - Under The Volcano (Deafendling Records) [Punk/Alt-Rock]
Eternal Silence - Timegate Anathema (Rockshots Records) [Symphonic Metal]